Mudslinging war in local cricket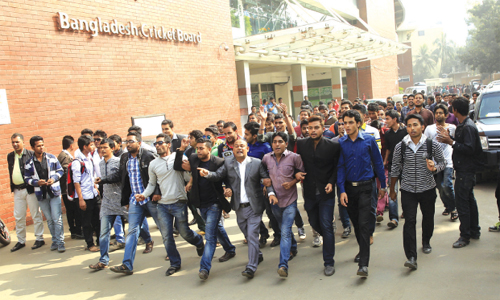 The temperature in local cricket has suddenly shot up after officials of different Dhaka Premier League clubs got involved in mudslinging over the last few days. Legends of Rupganj owner Lutfar Rahman effectively started a war against Bangladesh Cricket Board officials last week by making 'inflammatory' certain comments against certain individuals and quarters, after their match against Prime Bank. Naturally his remarks did not go down well with his counterparts, who protested vehemently and demanded his ouster from the sports arena. The culmination of their protest was a showdown at the Sher-e-Bangla National Stadium on Monday, which took on the appearance of a political arena, with hundreds chanting slogans against the Legends owner. Hundreds of people gathered at the SBNS since morning and hung a banner on the BCB office deriding Lutfar for his derogatory remarks. They brought out a procession hours before a joint press conference hosted by DPL club association, Cricketers Welfare Association of Bangladesh, and Umpires and Scorers Association of Bangladesh. Abahani director Kazi Nabil Ahmed spoke on behalf DPL club association, with which Lutfar's Legends is also a member. Nabil urged prime minister, Sheikh Hasina, and state minister for youth and sports Biren Sikder to take Lutfar to book for his remarks.
Later former national skipper Khaled Mahmud, who was also subject of Lutfar's remarks, spoke on behalf of CWAB and replied to several questions from journalists. Mahmud, who is also a BCB director, claimed they had no idea about how so many fans entered the stadium premise and denied their press conference had any relation to it. During the press conference, Mahmud also reiterated his commitment to Bangladesh cricket and said he is even ready to 'cut grass' if required to serve the game. Mahmud, who said that he will not back down just because of few comments, also claimed that he has full backing of CWAB in holding the press conference. Earlier in the day, speaking to New Age, CWAB secretary general Debabrata Paul said he had no knowledge about such press conference on behalf of their organisation. Meanwhile, Sailab Hossain Tutul, an official of umpires association, demanded the members of his committee be given proper respect while performing their duties. He also accused Legends of undermining the umpires by 'unnecessarily accusing them of favouritism.
' Defending DPL champions Legends of Rupganj earlier sent a letter to the BCB asking them not to appoint six particular umpires in their matches. Soilab said the letter was insulting to umpires. In a further twist of events, Babul Ahmed, the venue manager of Fatullah stadium, filed a case at Fatullah police station on Saturday accusing Lutfar and some other Legends officials of planning a conspiracy during their match against Abahani at the venue on November 21. Babul said Legends officials entered the dressing room with a video camera in clear violation of rules. When contacted, Tarikul Islam, the joint-secretary of Legends, said they are now afraid for their lives following the recent developments, including Monday's showdown. Tarikul was earlier nearly manhandled by some unruly fans after their match against Mohammedan Sporting Club in BKSP. Legends still have two matches to go in the first phase of the league against Prime Doleshwar and Sheikh Jamal Dhanmondi Club. They will face Doleshwar at Fatullah on December 10 before signing off their campaign in the first phase against Sheikh Jamal at the SBNS on December 14.
- See more at: http://newagebd.net/74822/mudslinging-war-in-local-cricket/#sthash.HqIvgfkP.dpuf