Rubel gets four-week bail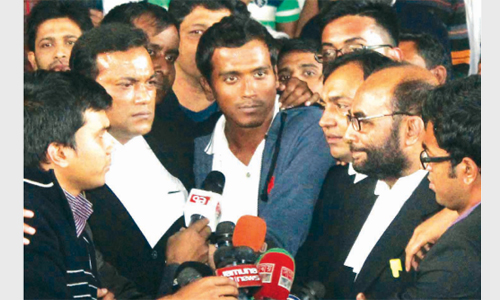 The High Court on Monday granted four weeks pre-arrest bail to national cricket team pacer Rubel Hossain in a case filed by film actress Naznin Akhter Happy.
The bench of Justice Syed AB Mahmudul Huq and Justice Md Akram Hossain Chowdhury issued the bail after Rubel surrendered before the court in the afternoon seeking bail.Deputy attorney general, Bashirullah told New Age that Rubel would need to surrender in the Women and Children Repression Prevention Tribunal after expiry of four weeks period.Bashirullah opposed the bail saying Rubel, being a renowned cricketer, should not involve any offence which might tint his and Bangladesh's image abroad.Supreme Court lawyer, SM Rezaul Karim appeared for Rubel, saying he would prove his innocence during the trial.

The lawyer, however, admitted that Rubel had affairs with the girl but she had demanded money from him on the pretext of the affair.A general diary had been filed with the Mirpur police alleging that he might be harassed by the girl, said Rezaul Karim.On Saturday, the girl filed a case at Mirpur police station against Rubel alleging Rubel of 'rape' and a 'false promise of marriage'.She alleged that Rubel has backed away from the pledge despite they had an intimate affair for months.Rubel, who is a member of Bangladesh's provisional squad for the upcoming World Cup 2015, has so far played 22 Tests to bag 32 wickets. The fast bowler also bagged 69 wickets in 53 one-day international matches.He was part of Bangladesh Team in the recent series win against Zimbabwe.