Rubel eyes happy World Cup journey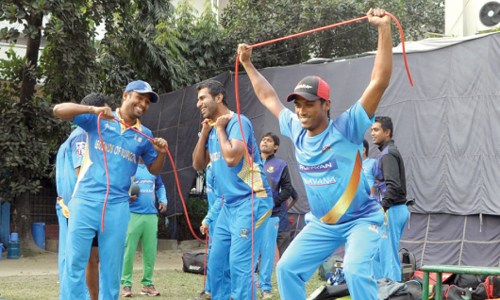 Pace bowler Rubel Hossain promised to bring some happy memories from the upcoming World Cup as he returned to training on Sunday putting behind his recent personal controversy.Rubel hit front page headline in the recent days after film actress Naznin Akter filed a case against him accusing the cricketer of 'rape' and 'false marriage promise.'The allegation cast a dark shadow on Rubel's World Cup hopes but the paceman secured a four-week bail to bring himself back on track.
Rubel joined the training of his club side Legends of Rupganj at academy indoor as the club started their preparation for the Super League of Dhaka Premier League.
Rubel was expected to speak at a press conference to make his position clear in the controversy but he finally decided to postpone it following the advice of his lawyers.Surrounded by media after his training session at Mirpur, Rubel, who hardly got so much attention in his playing life, said he is only interested about speaking cricket.

'Every cricketer cherishes the dream of playing World Cup. I have the same dream, if I can play this will be my second World Cup,' said Rubel.'I want to do something [special] in the World cup so that people remember me.'I am hopeful because according to me I bowled well against Zimbabwe in the recent series. After the series my preparation for the World Cup was also going fine.'I played two matches in the league and my team progressed to the Super League which gives me a chance to prove my worth, he said.Rubel added that he is excited to play in Australia as the condition there is expected to help the pace bowlers.'In Australia usually the pace bowlers get the advantage. If I am in the team I would like to take that opportunity,' said Rubel
Rubel seemed to be in perfect harmony with himself during his first public appearance and even cracked few jokes on few occasions.He bowled for more than an hour and kept on testing Legends' openers at the nets.'He really bowled well with good amount of pace,' said Legends opener Junaid Siddique.'I hardly saw him he has lost anything. He was rather bursting with confidence,' said the former national opener.Legends coach Mahbabur Rahman Selim was relieved to see Rubel back in the side after missing out their last match of the first phase against Sheikh Jamal Dhanmondi Club.'He is an experienced cricketer and looked to be in total control on his own self,' said Mahbubur.
Courtesy: http://newagebd.net/78700/rubel-eyes-happy-world-cup-journey/#sthash.lFExrcZH.dpbs