Faruk awaits rare double as selector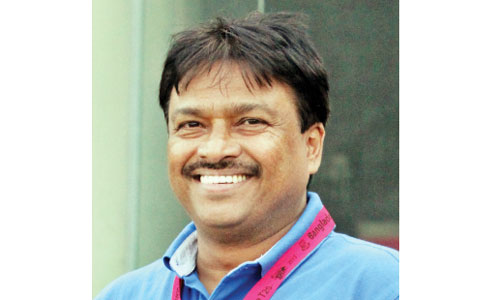 Chief selector Faruk Ahmed is all set to achieve a rare honour when he will announce the 15-member Bangladesh squad for ICC World Cup next week. Faruk will be only selector to take the honour twice having already selected Bangladesh squad for World Cup 2007, arguably the most successful World Cup for the Tigers. 'Definitely I am lucky,' Faruk, who was serving his second term as chief selector, told reporters at the Sher-e-Bangla National Stadium on Sunday. 'Some don't get the chance to pick one World Cup squad in their tenure. 'The work is always exciting. The focus of the whole world is at the World Cup so this is a good chance to showcase Bangladesh cricket's progress in the last four years.' Faruk gambled heavily in his first World Cup squad when he opted for some fairly new faces in Mushfiqur Rahim, Tamim Iqbal and Sakib al Hasan at the expense of senior cricketers. The inclusion of Mushfiq for experienced Khaled Mashud was a stunning move but it paid off as Mushfiq justified his inclusion with a crucial fifty in Tigers' opening match against India. Tamim and Sakib also hit fifties in India game that changed landscape of entire tournament. Bangladesh went on to win against Bermuda as well to reach Super Eights, where they shocked South Africa to take the world to their feet. Faruk ruled out similar experiment this time around, saying things are very different now compared to 2007.
'These are two different situations,' he said. 'When I selected the team for the 2007 World Cup, we had limited options. The team was in an earlier stage in world cricket and our domestic structure hadn't developed much,' he said. 'It was a policy to keep our eyes on the age-group sides. It was a gamble and it wasn't just Mushfiqur Rahim who was new. Tamim Iqbal was raw, and Sakib al Hasan had just played for six months in international cricket. 'All three are now established players in the team and the other boys are also matured,' said Faruk. 'I personally feel that rather than giving everyone a surprise, I took a calculative risk. 'I would have to expect the performance from the player, and at the same time make sure he is not shattered by the expectation. 'Back in 2007, I didn't expect them to do so well in the first game against India, but I feel that our thought process was correct because they have emerged from that tournament. 'I cannot be right all the time but if I apply logic to make a team, chances of being successful is higher,' he added. Bangladesh won 17 ODI's before going into the World Cup 2007 and it reflected in their performances at the big stage. However, things are not the same as Bangladesh mostly struggled throughout 2014 before putting up some solid performances against Zimbabwe that according to Faruk came at the right moment. 'I feel that the time just before the final stage is very important. It is like studying around the year but not studying four days before the final exam,' he said.
'This preparatory period is very important and I feel that Bangladesh won matches at the right time. 'I am not saying Bangladesh is going to do something major in the World Cup but I always want them to play better cricket. I don't want them to play well in one game and lose badly in the next four,' said Faruk. 'Bangladesh's wins over Zimbabwe came at an important time, but I feel the two-week training camp in Brisbane plus the two warm-up games is going to be vital to get used to the conditions and get into a winning habit,' he said. 'It happened in 1999 when we beat Essex in one of the warm-up games, same happened in 2007 when we beat New Zealand in the warm-up game and prepared well in matches against Canada and Ireland. 'If we can do it well, despite the conditions in New Zealand and Australia, we will have a chance to give a good account of ourselves,' he added Faruk said that he is hardly influenced by the teams submitted by the former national skippers and renowned ex-cricketers recently in the media. 'I am very experienced in this matter, since I am going to select a team for the World Cup for the second time. So that is my advantage,' said Faruk 'There is pressure from the public, media and from other corners. Everyone is involved in this… over the last few days the former captains are giving their teams in the media. These things don't influence but there is a lot of interest in who we pick,' said Faruk -
See more at: http://newagebd.net/81056/faruk-awaits-rare-double-as-selector/#sthash.iFwR4ER4.dpuf