Looking back 2014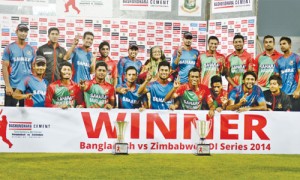 Bangladesh's cricket had a mixed fortune in 2014 as they had one of their all time low during the first 10 months before reversing their fate in the home series against Zimbabwe to end the year on a high note.Tigers can claim to have seen it all before getting back into the groove after a series of missed opportunities coupled with umpteenth off-the-field controversies, nearly ruined their year.It all began with the home series against Sri Lanka when Bangladesh came close to winning the first one-day international, leaving the visitors 67-8 at one stage before few dropped catches took them to 180-9 and gave a 13-run win eventually.It took the momentum away from them and Sri Lanka went on to win the remaining matches of the series including two closely fought Twenty20 Internationals.However, the worst was yet to come.Star all-rounder Sakib al Hasan made a lewd gesture on television camera to earn a three-match ban, which proved to be catastrophic for the Tigers. They lost their all four matches in the subsequent Asia Cup, which included their first ever ODI against Afghanistan.

Sakib's absence was badly felt when Afghanistan recovered from 5-90 to post 254-6 and beat Bangladesh by 32 runs to burst into wild celebration.
Tigers took their revenge soon to thrash the Afghans in the opening match of ICC World Twenty20, but their agony was never to end.They were left red faced by Hong Kong and had to rely on Sakib's brilliant bowling to qualify for the Super-10 phase, where they lost all the matches.The series against second string India could not give them any respite despite them creating few more chances. In the second ODI, they dismissed India for 105 runs only to get bundled out for 58 runs, which equaled the record of their lowest ODI score.Tigers also returned empty-handed from the West Indies tour, losing all three ODIs and both the Test matches and seeing their only Twenty20 International abandoned for rain.It was not until the first Test against Zimbabwe they got their first win of the year, though it did not come as easily as they had expected.Chasing a target of a little over 100 runs they lost three wickets without any runs on the board and barely managed the score thanks to the heroics of Taijul Islam, who scored an invaluable 13 after taking a record 8-39 earlier in the game.Sakib created history in the next Test by becoming only the third player ever to score a century and take 10 wickets in a single Test after England's Ian Botham and Pakistan's Imran Khan as Bangladesh won their first home series in nine years with a 162-run win.Leg-spinner Jubair Hossain made his mark in the next Test with nine-wicket to help Bangladesh complete a clean sweep before going to win the following ODI series 5-0.In the fifth ODI, Taijul Islam became the first man to claim a hat trick on debut putting an ice on the cake.
Off the field Sakib
Like the on-field performance, the Tigers also had an eventful year off-the-field, which was largely dominated by Sakib. The year began with his three-match ban on TV camera but what followed in July was surely unprecedented.On July 7, Sakib was banned for six months for 'attitude problem' and was told that he would not be granted NOCs to play in overseas competitions until December 31, 2015.The BCB cut short the ban only after Sakib promised to behave and also lifted the restriction on his NOC after his heroic performance in the Zimbabwe series.
Illegal action
Off-spinner Sohag Gazi and paceman Al-Amin Hossain were reported for suspected bowling actions dealing a major blow to the Tigers. Al-Amin was fortunate to get his action cleared but Sohag's action was found illegal in the subsequent Tests.
Split captaincy
The BCB introduced split captaincy for the first time in their cricket history and opted for Mashrafee bin Murtaza to take the reign in the shorter versions while kept Mushfiqur Rahim to call the shots in the Test matches during the home series against Zimbabwe.
Jurgensen left without completing his tenure
Bangladesh's Australian coach Shane Jurgensen resigned after a string of poor performance in the Asia Cup and ICC World Twenty20 despite being awarded a contract extension up to World Cup 2015. He was replaced by Sri Lankan Chandika Hathurusinghe, known to be a tough taskmaster.
Mohammad Ashraful saga
A special tribunal slapped eight-year ban on former cricketer Mohammad Ashraful in June after he admitted his guilt in the Bangladesh Premier League match-fixing scandal. An one-member appeal panel, however, on September 29 had reduced his eight-year ban to five-year, including a suspended ban of two years, opening up the door for the batsman to return to cricket from August 2016.
Umpires does it all at DPL
Umpiring became the talking point of Dhaka Premier League as Partex refused to play against Kalabagan Krira Chakra only to be demoted while officials of defending champions Legends of Rupganj were banned for indecent remarks that came after their continued reservations regarding umpiring were overlooked.
- See more at: http://newagebd.net/82074/alls-well-that-ends-well/#sthash.W9u1064H.dpuf