Mushfiq gives new injury scare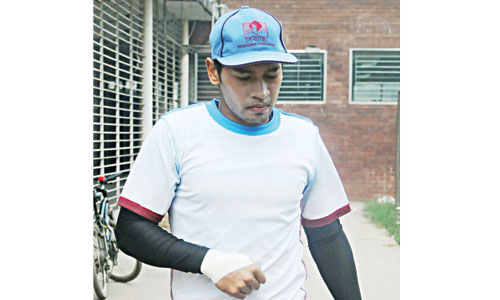 Bangladesh suffered another injury scare on Thursday when wicket keeper- batsman Mushfiqur Rahim appeared to have hurt his shoulder during the training session with his club side Prime Doleshwar. Doleshwar captain Mushfiq fell down and injured his right shoulder while playing football at the National Cricket Academy ground ahead of their today's Dhaka Premier League match against Legends of Rupganj. His grimacing face sent a shiver of cold to the nearby headquarters of the Bangladesh Cricket Board, which is already struggling to make opener Tamim Iqbal fit before the World Cup. Primary medical reports, however, suggested that his injury was not serious enough to keep him away from playing in the World Cup in Australia–New Zealand starting on February 15.
'I don't think his injury is very serious,' BCB's senior physician Debashish Chowdhury told reporters after examining the batman, Bangladesh's most successful one-day international batsman in 2014 with 704 runs in 18 matches. 'He was already nursing an injury in this place. He had just aggravated it. But there is nothing to be panicked. 'We kept him under 48-hour observation and will take him for MRI scan on Saturday. Only then we will be able to tell the exact nature of his injury.' Mushfiq's injury, however, appeared as a body blow for Prime Doleshwar, who are fighting for the DPL title. Doleshwar won their all three Super League matches and were expecting to win their maiden title by winning the remaining two matches. Mushfiq is now ruled out of their today's match against Legends and there is every chance that he may miss their final game against Mohammedan as well.
- See more at: http://newagebd.net/82427/mushfiq-gives-new-injury-scare/#sthash.giTMiLmu.dpuf