Hillary Clinton asks State Department to release her emails.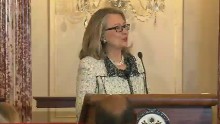 Hillary Clinton says she has asked the State Department to release emails she sent from the personal email address she used rather than the one provided by the agency."I want the public to see my email. I asked State to release them. They said they will review them for release as soon as possible," the former secretary of state said on her official Twitter account late Wednesday night.
Clinton is under the deepest scrutiny she's faced since leaving government amid revelations that she used private -- rather than official -- email during her tenure as Secretary of State.
The development raises questions about her compliance with government transparency rules and comes at a time when she's the unquestioned front-runner for the 2016 Democratic presidential nomination, even though she hasn't announced a campaign.
While she is not the first secretary of state to use a private email address -- former Secretaries Colin Powell and Condoleezza Rice both had private emails -- Clinton is the first to exclusively use a private account. As opposed to Clinton, both Rice and Powell had and used an official government email address.
The server for Hillary Clinton's personal email address was housed at her home in Chappaqua, New York, according to analysis by The Associated Press.
Aides have argued that Clinton had "every expectation" her emails would be automatically retained because she was sending them to other government accounts. A Clinton aide said Tuesday, that "nine out of 10 emails that she sent over the course of her tenure went to the State Department."
Late in 2014 - long after Clinton left State - President Barack Obama signed an update to the Federal Records Law to "prohibit the use of private email accounts by government officials unless they copy or forward any such emails into their government account within 20 days," according to the National Archives and Records Administration.
The GOP has been quick to jump on the issue.
Republicans issued statements this week questioning Clinton's motives, the RNC produced a web ad about the emails and opposition research groups filed Freedom of Information Act requests for her correspondence.
"It makes you wonder," Republican National Committee Chairman Reince Priebus said. "Did she use the private emails so she could conduct diplomacy and fundraising at the same time?"