Cleanup begins in Vanuatu after cyclone batters islands.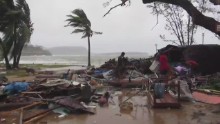 The mayhem of Tropical Cyclone Pam, one of the most powerful storms ever to make landfall, is gone, but the misery it left behind in the islands of Vanuatu is just becoming apparent.Aid workers in the capital of Port Vila described homes and shops flattened, swaths of trees plowed over and residents seeking shelter in schools and churches -- or with neighbors.
At least six people are dead, but communication with many of the 80-plus islands in the archipelago is impossible, so the fear is that toll will climb. The deaths reported by the National Disaster Management Office are just from Port Vila.It is unclear how many thousands will be displaced by the massive storm that bore the might of a Category 5 hurricane when it pounded the islands for most of a 24-hour period.
"It's like a bomb has gone through," said journalist Michael McLennan, who lives in Port Vila. "It's really quite apocalyptic."Most buildings were destroyed or damaged, he told CNN on Sunday morning. Many roads are blocked by fallen trees or power lines.Hardly a tree stood straight after Pam bellowed across the South Pacific nation, where some 260,000 people live, many in flimsy homes built of thatch.
Cleanup efforts are underway, according to Colin Collet van Rooyen, Oxfam country director in Vanuatu.It appears Bauerfield International Airport will reopen Sunday afternoon for emergency flights. An Australian C-130 took off for Port Vila with emergency personnel from the defense department. The Australian air force will send two cargo planes loaded with relief supplies, the government in Canberra announced.
The main objective now is to get disaster response teams into Vanuatu and kick-start the humanitarian operation, Sune Gudnitz, regional head for U.N. aid agency OCHA, told CNN from Fiji, about 600 miles away.
His agency has had word of much destruction on Efate, the island that houses the capital, where the violent winds around Pam's eye roared through, and from the southern island of Tanna, he said.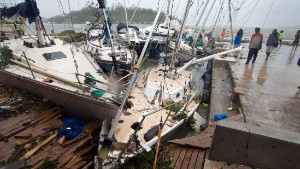 Only a little information has so far trickled out from beyond the capital, but Gudnitz, said that he fears the worst."Unfortunately, the more that comes out, the worse it looks," said Gudnitz. "I should say it's really a case of the worst-case scenario for the country and for the people."
Vanuatu President Baldwin Lonsdale, who was at a U.N. conference on disaster reduction in Japan on Saturday, appealed for help for his shattered nation.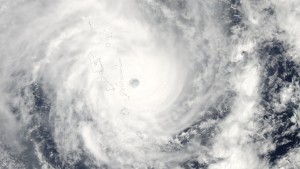 Tropical Cyclone Pam hits Vanuatu10 photos
"I am speaking with you today with a heart that is so heavy. I do not really know what impact Cyclone Pam had left on Vanuatu, as there are no confirmed reports as yet," he said."I stand to appeal on the behalf of the government and people of Vanuatu to the global community to give a lending hand in responding this very current calamities that have struck us."
'Unbelievable' destruction
Pam was the equivalent of a Category 5 hurricane before notching down to Category 4 after landfall at 11:23 p.m. Friday local time. CNN's weather center said 155 mph (250 kph) winds blasted the island nation, with gusts up to 200 mph (325 kph).
By overnight Saturday, the damage was done. CNN meteorologist Ivan Cabrera noted that, by then, Pam had passed all the nation's islands and was moving over open water.
As it moved over cooler ocean waters away from Vanuatu, the storm further weakened Sunday. It had sustained winds of 132 mph (213 kph), said the Joint Typhoon Warning Center in Pearl Harbor, Hawaii.
The damage it left behind is "unbelievable," according to the Australian Red Cross."Humanitarian needs will be enormous," the aid agency tweeted. "Many people have lost their homes. Shelter, food and water (are) urgent priorities. "A UNICEF Australia post, meanwhile, spoke of "countless homes torn apart, communities in ruin."
News Courtesy: www.cnn.com