Obama may not reduce troops in Afghanistan.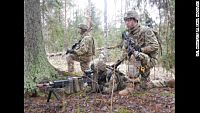 President Barack Obama is considering whether to scrap his drawdown plan to reduce U.S. forces in Afghanistan to 5,500 troops by the end of this year.A senior administration official said Saturday this is at the request of new Afghan President Ashraf Ghani. The two leaders spoke earlier this week via video conference.
The official said no final decisions have been made.
"Presidents Obama and Ghani have had regular discussions on the security transition and peace and reconciliation processes in Afghanistan, as well as planning for President Ghani's upcoming visit to Washington," the administration official told CNN. "In the context of supporting Afghanistan's evolving national security strategy and associated opportunities, President Ghani has requested some flexibility in the troop drawdown timeline and base closure sequencing over the next two years and we are actively considering that request."
During a trip to Afghanistan last month, shortly after he took office, Defense Secretary Ash Carter said he might advise Obama to consider slowing the drawdown of U.S. forces from Afghanistan -- partly because of better relations with the new Afghan government. Any review would be based on the reality on the ground.
There are about 10,000 U.S. troops in Afghanistan.