Rubel, Soumya in Indian attention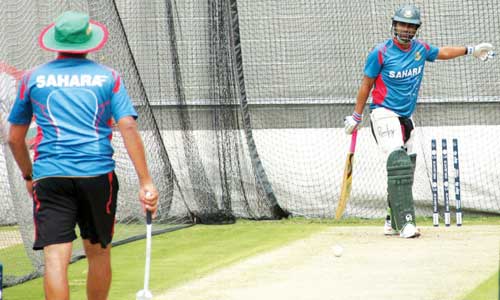 Forget about Sakib al Hasan, Tamim Iqbal. The two cricketers that left Indian media more curious before Thursday's quarter-final are not even Mashrafee bin Murtaza or Mahmudullah.Mushfiqur Rahim, one of the three half-centurions in 2007 who took the winning run and later played a key hand in Asia Cup win, is also a common man now to the Indians.Ever since it appeared India can play Bangladesh in quarter-final all Indian eyes were looking for batsman Soumya Sarkar and bowler Rubel Hossain from Hamilton to Melbourne.Tigers' media manager Rabeed Imam said he has received over 20 interview requests from Indian journalists for Soumya and Rubel and had to turn down all for obvious reasons.It is not difficult to understand why Indians have become so curious about Soumya and Rubel.Soumya has injected the kind of freshness in the Bangladesh team that once Tamim demonstrated in 2007 to destroy the Indian bowling. Though Soumya could not play a long innings in this World Cup, his positive intent and stroke making ability caught well attention.

Indians became his instant fan after seeing him batting with gracious manner in Hamilton on his way to his maiden one-day international fifty against World Cup's most incisive attacks.A Kolkata-based reporter thanks to his spending a minute or two with Soumya at Novotel Hotel in Hamilton compared him with Sourav Ganguly and Yuvraj Singh, the two left-handers known for their elegant stroke play.Indians were also seen busy trying to find a link for him with Kolkata to become largely unsuccessful. All they could discover is his visit to Kolkata for BCB Under-17 team when he scored a century on his Eden Garden debut.Soumya's second Kolkata experienced is limited to his visit for the BCB XI for the 150-year celebration of Eden Garden last year. He did little during the tournament to suggest that the left-hander is a star in the making.But now he appeared as a big prospect to all despite making 146 runs at just 29.20 in five matches. Soumya has drawn so much attention in the World Cup that his visit to see Formula-1 race and intent of taking a photograph with Hollywood star Arnold Schwarzenegger has also become a headline.Rubel is however not just a target of Indian media unlike Soumya. His spending of three nights in jail and then two months later his two overs that sealed England's fate made him a headline-grabber already.Rubel outpaced all England bowlers to resounding success obliging English media to shower him with praise. Indians also must be surprised seeing him bowling constantly at 145km speed, something they cannot see too often in their team.Rubel's love affair with film actress Naznin Akter Happy and the allegation of rape that landed him to jail matched the script of block-buster Bollywood films making him the obvious choice of Indian media.The Tigers knew Rubel could face this kind of attention and carefully shielded him from the army of Indian reporters so far. Even coach Chandika Hathurusighe swept aside a question regarding Rubel on Monday saying that they never discuss personal matter in team.
'We never spoke about what he was going through,' said Hathurusinghe. 'He is very professional and switched on the moment he came into the side. What he has achieved is because of his own hard-work.'His words however did little to dissuade Indians from hunting the sling action bowler.
- See more at: http://newagebd.net/103601/rubel-soumya-in-indian-attention/#sthash.PJB0QzXD.dpuf