TSA officers attacked with machete and wasp spray at New Orleans airport.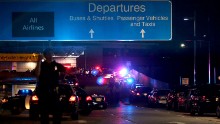 A man armed with a machete and wasp spray stormed through a security area at Louis Armstrong New Orleans International Airport on Friday night before being shot, authorities said.Richard White, 62, was taken to a local hospital, where he underwent surgery, Jefferson Parish Sheriff Newell Normand said.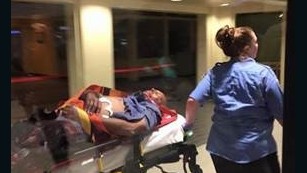 The suspect in the attack on TSA agents at the New Orleans-area airport is taken away on a stretcher.
The incident started when White entered a security checkpoint for Concourse B and began spraying Transportation Security Administration agents and bystanders with a can of wasp spray, a sheriff's office statement said.White soon pulled out a machete from his waistband and began wielding it at agents and others in the area.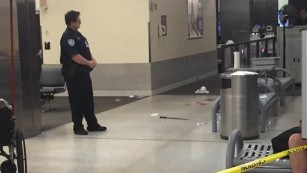 The machete allegedly used against TSA officers is seen on the floor of the airport.One of the agents blocked the machete with a piece of luggage as White chased him through a security checkpoint metal detector.At that point, Lt. Heather Slyve of the Jefferson Parish Sheriff's Office opened fire, shooting White in the chest, face and thigh.
One TSA agent was hit by a bullet fired by Slyve and was being treated for nonlife threatening injures, according to the TSA.Several bystanders suffered minor injuries. Some ran into furniture, scrambling to get out of the way. One person was grazed in the arm by a bullet, Normand said.
"We don't know what the motivation is," Normand said. "It is still early. We're still running that out in order to try and determine anything about this particular individual."It wasn't immediately clear why White was at the airport, although he was a taxi driver and had recently received his chauffeur license.
White has little criminal history, according to Normand. He said White had some disturbing the peace charges and some traffic tickets.There's nothing to indicate that the incident posed any sort of national security threat, Normand said.
NewsCourtesy: www.cnn.com