Hillary Clinton seeks 'new beginning' with the press.

The honest admission provided a rare glimpse into how the former secretary of state -- and frontrunner for the 2016 Democratic presidential nomination -- views the journalists who constantly follow her."I am aware some of you may be a little surprised to see me here tonight," Clinton said.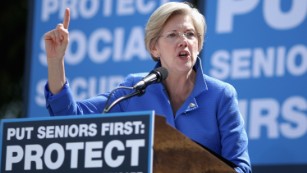 Clinton, who most recently held an adversarial press conference with throngs of reporters over her use of personal email as secretary of state, has a long, often antagonistic history with the national media.
When she was asked to headline an event with hundreds of political reporters, editors and executives, she recounted thinking, "What could possibly go wrong?"
"I am all about new beginnings," Clinton said at the Toner Prize event in Washington. "A new grandchild, another new hair style, a new email account, why not a new relationship with the press? So here goes, no more secrecy, no more zone of privacy. After all, what good did that do me?"
At the cozy event, Clinton hinted at her 2016 bid by noting that she has been "ruminating" lately.
Clinton has operated with the media almost exclusively on her terms for the last two years. At her paid speaking engagements and foundation events, the press is generally kept hundreds of feet away. During the 2014 midterm election -- and at times during Clinton's 2014 book tour -- media was sometimes close enough to ask a question, but the occurrences were rare.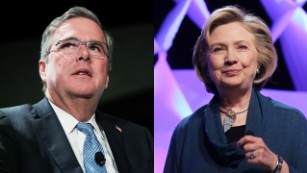 Her press conference two weeks ago at the United Nations was the first time since September 2014 she gaggled with the cadre of reporters that have followed her for the better part of a year.
"Before I go any further, if you look under your chairs, you will find a simple non-disclosure agreement. My attorney's drew it up. Old habits last," she joked.
Clinton struck a serious note in her keynote address, however, outlining her vision for a noble media.
"I believe we need more Robin Toners," Clinton said about the journalist who died in 2008. The former first lady argued that today's media focuses too much on the political horse race and too little on policy. Clinton -- a proud policy wonk -- noted that Toner "really liked to delve into the substance of issues" and would ask incisive, but fair, questions.
"It has gotten even harder to do the kind of journalism that she did," Clinton said as a pool of reporters tweeted her remarks in the back of the room.
"Everyday, you, the reporters and the writers in this room, are under more and more pressure from changes in technology, in the marketplace and, of course, in our politics," she said.
In particular, Clinton noted knocked "Twitter-storms drowning out substantive dialogue and reporting" and "cable shout fests."
Honored on Monday was reporter Dan Balz, The Washington Post's chief correspondent and an icon in the political reporting world. Upon accepting his prize, Balz thanked Clinton and said, "I am happy to yield my time back to you if you want to take some questions."Clinton declined, but did chat briefly with some of the reporters in the room before leaving the event.
News Courtesy: www.cnn.com