PM announces cash reward of Tk 2cr for cricketers.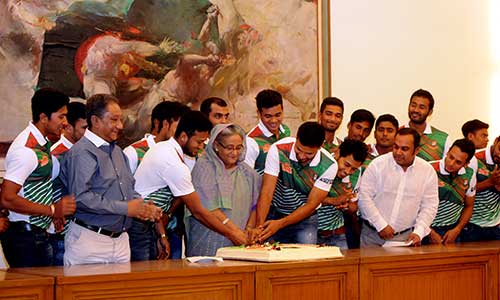 The prime minister, Sheikh Hasina, on Saturday announced to present Tk 2 crore to Bangladesh cricket team for their outstanding performance in the recent World Cup and thrashing Pakistan in the one-day international series and outplaying them also in the lone T20 match. 'Tk one crore for the excellent performance in the World Cup, while Tk another crore for the Banglawash of the Pakistan cricket team in the ODI series and defeating them in the lone T20 match,' announced Hasina, a diehard cricket fan. The announcement came at a reception she accorded to the Bangladesh cricket team at PM's official residence Ganabhaban, United News of Bangladesh. She also announced to provide a car for each player who does not have had any such reward from the government by the time and provide accommodation for all of them. 'I've asked the officials concerned to look for a good place and we'll construct a building there and provide the players with flats,' Hasina said. Bangladesh qualified for the quarterfinals in the Cricket World Cup 2015 for the first time in the World Cup history, earning appreciations from all quarters. Besides, Bangladesh clinched the ODI series defeating touring Pakistan cricket team by 3-0. 'Banglawash' is referred to a whitewash in cricket by Bangladeshis. The home team also outplayed Pakistan by seven wickets in the only T20, too.
All these matches were played at Sher-E-Bangla Cricket Stadium in Mirpur, Dhaka. Speaking at the reception, Sheikh Hasina termed the cricket players the 'golden boys' of Bangladesh. 'You're the golden boys of the country and we all proud of you,' she said adding that each player of the Bangladesh team is like Bengal Tiger. She highly praised the performance of the Bangladesh team in the World Cup and in the ongoing series against touring Pakistan. 'We've won the ODI series and T20 against Pakistan, Inshallah, we'll win the upcoming Test match against Pakistan,' she told the cricketers. Hasina asked the players to play their due role. 'Win and loss are part of the game, if you play well you must win, no doubt about it.' She also expressed the high hope to clinch the World Cup one day if the players of the team play like this way. 'You must keep the trust and confidence in yourselves, you have to think that if anyone else can do you can also do that,' she said adding this confidence is no there among the players of the team. The prime minister hoped that the Bangladesh team would play well in the upcoming matches with India, Australia, South Africa and West Indies. These teams have schedules to be here in Bangladesh this year.
- See more at: http://newagebd.net/114577/pm-announces-cash-reward-of-tk-2-cr-for-cricketers/#sthash.4r2pDrcJ.dpuf