Cancer hotels home to China's healthcare misery.

The sick sell their homes to come here.A shabby row of two-story buildings in west Beijing, a few hundred meters from one of China's top cancer treatment and research hospitals, they house untold misery.
Known locally as "cancer hotels," they provide a cheap, temporary accommodation for hundreds of patients in a country where a cancer diagnosis can be financially, as well as physically, devastating.
At night, sobs of agony can be heard as patients pace the hallways wracked with pain. Far from home, they come to seek treatment that they believe is unavailable in China's rural hinterland and smaller cities.
"I thought I was going to collapse when I heard the news," said Liu Dajiang, who cares for his wife.
They have used one of the modest guesthouses as a place to wait for chemotherapy, surgery and radiotherapy at the nearby hospital since her diagnosis with cervical cancer in September 2014.
There's no nursing care in their lodgings, but a communal kitchen allows them to live cheaply as well as draw support from fellow sufferers.
"Nobody could fix her disease in a small place," said Liu of his coastal home town north of Beijing.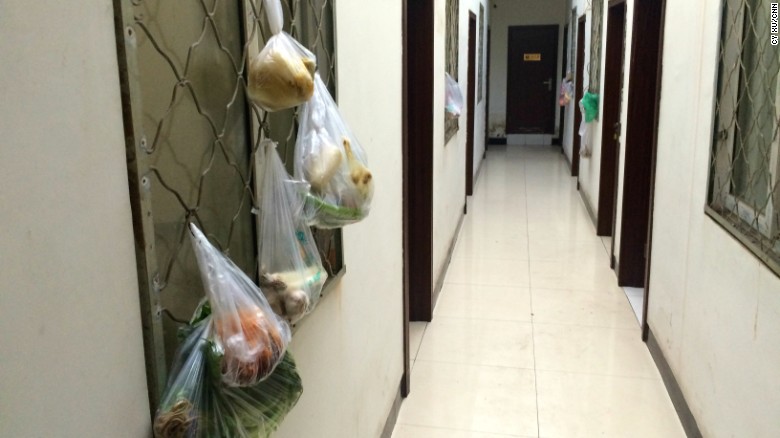 Bags of produce hang on the window frames each room. Many guests use communal kitchen to cut costs.
Ferocious cancer rates
The World Health Organization says cancer rates in China are growing "ferociously," with 2.2 million men and women dying of cancer each year -- many of which could be prevented. Lung cancer is the most common cancer diagnosed in men, breast cancer for women.
Bernhard Schwartlander, WHO Representative in China, told CNN that the cancer hotels that have sprung up around reputable hospitals in many major cities are a response to weaknesses in China's healthcare system -- most patients don't have affordable access to good quality cancer treatment close to where they live, he said.
Cancer treatment can be very expensive and costs are insufficiently covered by basic health insurance, he said.
"Paying out of pocket for the cancer drugs can be a huge financial drain on poor rural households."
"Therefore, there is a serious risk that for many people, a cancer diagnosis can be financially catastrophic -- and push a household into poverty."
Even though most county hospitals have cancer diagnosis and treatment capacity, some people believe the quality of care is better in cities, he said.
But their decision to head to prestigious hospitals was not always the best course of action, he added.
The real quality of care, once things like waiting times are taken into consideration, was is not always better -- although some rare cancers can only be treated by specialists in larger cities, he said.
The room rented by Liu has two beds, and no additional furniture except for a television stand. Liu's wife lays in bed with her eyes closed even though the TV is on. She doesn't want to speak to journalists.
"She is very weak," he explained. "She seldom gets out of the bed. I only walk with her around the neighborhood."
Tales of misfortune
Meng, the owner of the hotel, said he has met many patients who sold houses to fund their medical treatment.
"Most of them get cured, but others never come back (from the hospital)," said Meng, who declined to give his full name.
In 2010, Meng rented the building and renovated it into a 70-room hotel, with 10 communal bathrooms.
"The patients need nutritional supplements," he said. "They can make whatever they'd like to eat here. They can't do that at regular hotels."
He said his guests got along well and never fight over trivial things. "They all have pains, so they understand each other well."
Meng says he has heard countless tales of misfortune and woe.
"It delays things when everybody confides to me," he says. "But how can I not listen and understand?"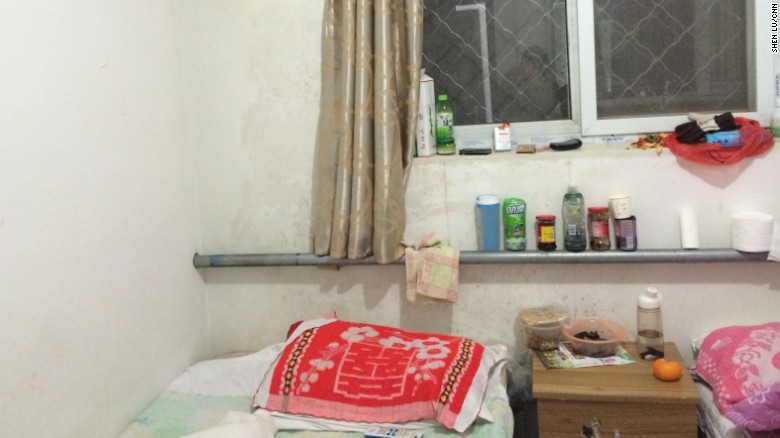 Liu Dajiang and his wife, who has cervical cancer, have stayed in this room while she undergoes treatment at a nearby hospital.
'It's killing me'
Many find themselves spending longer at his hotel than they first thought — waiting lists for treatment are long.
One man, who declined to give his name, said he'd stayed at Meng's hotel for almost two months with his wife and daughter.
He came to Beijing after having a tumor removed from his jaw in his home city of Jilin and has since received radiotherapy at the Beijing Cancer Hospital.
He said he believes the treatment machines were better than in his hometown but has been disappointed with the level of care. He's spent $70,000 since he got diagnosed.
"Everyone wants to get a good doctor, but you don't really know if they are helpful," he said. "My doctor doesn't even want to waste breath talking to me."
"It has cost me 15,000 yuan to just register, let alone the treatment fee," he said. "It's killing me."
Liu's wife has just one more session of radiography before she can leave the cancer hotel and go home. But the couple can only think about the $30,000 they now owe after borrowing to pay for her medical care and living costs during their time in Beijing.
Liu said he had used to run a small business, but had to stop after his wife got sick.
Like most people in the hotel, Liu buys groceries and cooks by himself to save money.
"We have to count every penny," he says. "We peasants can't afford such high medical expenses."
News Courtesy: www.cnn.com