Chinese official: U.S. has ulterior motives over South China Sea
A week after a CNN team aboard a U.S. Navy P8-A Poseidon heard the Chinese military issue warnings eight times to a U.S. surveillance plane flying over disputed waters in the South China Sea, a senior official with the People's Liberation Army has called Chinese response "professional" and suggested Washington is playing up the issue with ulterior motives.
"For a long time, the U.S. military has been conducting close-in surveillance of China and the Chinese military has been making such necessary, legal and professional response -- why did this story suddenly pop up in the past weeks? Has the South China Sea shrunk?" Senior Col. Yang Yujun asked rhetorically at a press conference Tuesday.
"A certain country has increased the frequency of its close-in surveillance of China and that has caused a problem," he added. "Some people have been intentionally and repeatedly hyping this topic. Their purpose is to smear the Chinese military and dramatize regional tensions. And I'm not ruling it out that this is being done to find an excuse for certain country to take actions in the future."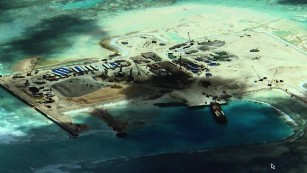 The South China Sea is the subject of numerous rival -- and often messy -- territorial declarations over an area that includes fertile fishing grounds and potentially rich reserves of undersea natural resources. In addition to China, Brunei, Malaysia, the Philippines, Taiwan and Vietnam also claim at least parts of the South China Sea.
READ: U.S. threatens peace in South China Sea, Beijing says
The United States does not recognize China's territorial claims, and other claimants -- including several U.S. allies -- are alarmed by China's recent move to reclaim and militarize islands in the region.
Chinese expansion
In just two years, China has expanded these islands by 2,000 acres -- the equivalent of 1,500 football fields -- and counting, an engineering marvel in deep waters.
Last week the P8-A Poseidon -- America's most advanced surveillance and submarine-hunting aircraft -- that CNN had access to filmed early warning radar, military barracks, a lofty lookout tower and a runway long enough to handle every aircraft in the Chinese military on an expanded Fiery Cross Reef.
READ: U.S. surveillance plane warned away
Yang, who is the spokesman for China's Ministry of National Defense, said the construction in the South China Sea is the same as building roads and bridges in the rest of the country "from the perspective of sovereignty," but stressed the civilian functions of the newly-built facilities.
Some in Washington have feared that China's creation of entirely new territory in the South China Sea is part of a broader military push intended to challenge U.S. dominance in the region.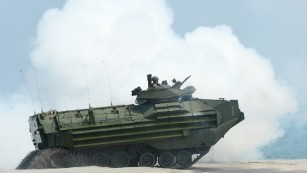 They have pointed to Beijing's other maneuvers, such as sailing its first aircraft carrier, equipping its nuclear missiles with multiple warheads and developing missiles to destroy U.S. warships as proof.
As U.S. officials pledged to beef up military patrol in the South China Sea despite Chinese protests, tensions appeared to rise to a new high Monday when the Beijing-based Global Times -- run by the ruling Communist Party -- published an editorial that warned of an inevitable war between China and the United States.
War imminent?
At the press conference Tuesday, Yang echoed a Foreign Ministry spokeswoman who earlier said that the editorial reflected the newspaper's own view.
Defying U.S. calls for halting unilateral actions, however, China's transportation authorities on Tuesday hosted a groundbreaking ceremony for the construction of two "multi-functional lighthouses" to improve navigational safety on two reefs in the South China Sea, the state-run Xinhua news agency reported.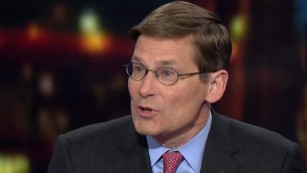 Meanwhile, Taiwan's president has proposed a peace initiative in the disputed waters, calling on all parties to put aside differences and focus on joint development.
"We emphasize that while sovereignty cannot be divided, resources can be shared, thereby replacing sovereignty disputes with resource sharing," Ma Ying-jeou was quoted as saying by the island's Central News Agency Tuesday.
News Courtesy: www.cnn.com