ISIS fighter was trained by State Department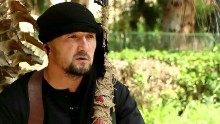 An ISIS fighter who calls for jihad in a new online video was trained in counterterrorism tactics on American soil, in a program run by the United States, officials tell CNN.The video features a former police commander from Tajikistan named Col. Gulmurod Khalimov. He appears in black ISIS garb with a sniper rifle and a bandolier of ammunition. He says in the video that he participated in programs on U.S. soil three times, at least one of which was in Louisiana.
The State Department has confirmed this claim."From 2003-2014 Colonel Khalimov participated in five counterterrorism training courses in the United States and in Tajikistan, through the Department of State's Diplomatic Security/Anti-Terrorism Assistance program," said spokeswoman Pooja Jhunjhunwala.The program is intended to train candidates from participating countries in the latest counterterrorism tactics, so they can fight the very kind of militants that Khalimov has now joined.
A State Department official said Khalimov was trained in crisis response, tactical management of special events, tactical leadership training and related issues.
In the video, Khalimov says that what he saw during his training sessions turned him against his sponsors.
"Listen, you American pigs: I've been to America three times. I saw how you train soldiers to kill Muslims," he says in Russian. "You taught your soldiers how to surround and attack, in order to exterminate Islam and Muslims."Then, in the most chilling part of the 10-minute video, he looks directly into the camera and says, "God willing, we will find your towns, we will come to your homes, and we will kill you."
He then demonstrates his dexterity with a sniper rifle by blowing apart a tomato from a distance of perhaps 25 yards. The scene is played in slow motion.The American program in which Khalimov participated is designed to teach tactics used by police and military units against terrorists by countries that cooperate with the United States on security matters. But now experts are concerned that this defector has brought ISIS not only a propaganda victory, but also an insider's knowledge of the playbook the United States is using in the fight against ISIS.
"That is a dangerous capability," said former Army intelligence officer Michael Breen. "It's never a good thing to have senior counterterrorism people become terrorists."
"It sounds like he was involved in defending sensitive people and sensitive targets," said Breen, who is now with the Truman Project in Washington. "He knows how to plan counterterrorism operations. So he knows how the people who protect a high-value target will be thinking; he knows how people who protect an embassy would be thinking."
Former Army sniper Paul Scharre, now with the Center for a New American Security, said Khalimov could not only help train other ISIS fighters in tactics, but also serve as a recruiter for the group.
"They're obviously trying to draw in recruits" with the video, he said.
Khalimov was an officer of the primary counterterrorism unit which responds to terrorist threats in Tajikistan, a State Department official said, so he and other members of his unit were recommended for the program by the Tajik government.
"All appropriate Leahy vetting was undertaken in advance of this training," said spokeswoman Jhunjhunwala.
Scharre, who has served as a trainer of Afghan soldiers in Afghanistan, says there is always a risk that a trainee will turn against their American instructors.
But Breen, who has also participated in training sessions overseas, said building counterterrorism partners requires a necessary leap of faith. "There's absolutely no way to beat an opponent like the Islamic State, without training a lot of people," he said. "That's a core of our strategy."
News Courtesy: www.cnn.com