TSA screeners failed tests to detect explosives, weapons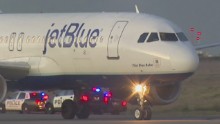 Airport screeners failed to detect explosives and weapons in nearly every test that an undercover Homeland Security team conducted at dozens of airports, according to an internal investigation.
The Transportation Security Administration found that "red teams" with the Department of Homeland Security's Office of the Inspector General were able to get banned items through the screening process in 67 out of 70 tests it conducted across the nation.
The test results were first reported by ABC News, and government officials confirmed them to CNN.
RELATED: Report says U.S. airport security equipment improperly managed
Homeland Security's report on the tests is set to be issued later this summer and is still being written.A Homeland Security spokesperson said that "the numbers in these reports never look good out of context, but they are a critical element in the continual evolution of our aviation security."
Rep. Jason Chaffetz, chairman of the House Oversight and Government Reform Committee, called the failure rate "deeply alarming.""Over the past six years, we have seen TSA consume an enormous amount of government resources, but I'm not convinced we have much to show for it," he said in a statement. "After spending over $540 million on baggage screening equipment and millions more on training, the failure rate today is higher than it was in 2007. Something is not working."
"I have long been a proponent of using low-tech bomb-sniffing dogs to detect weapons and explosives," he said. "Government needs to recognize that the most effective solution is not always the most expensive one."
The spokesperson said Homeland Security Secretary Jeh Johnson directed TSA to take "a series of actions, several of which are now in place," to address the issues the red team tests identified -- but didn't identify what those actions are.
Late Monday, Johnson issued a statement saying that Melvin Carraway, the acting administrator for the TSA, would be reassigned. Mark Hatfield, acting deputy director, will take over until a new acting administrator is appointed.
"Today, all air travelers are subject to a robust security system that employs multiple layers of protection, both seen and unseen, including: intelligence gathering and analysis, cross-checking passenger manifests against watchlists, screening at checkpoints, random canine team screening at airports, reinforced cockpit doors, Federal Air Marshals, armed pilots and a vigilant public," the spokesperson said.
"In combination, these layers provide enhanced security creating a much stronger and protected transportation system for the traveling public."
News Courtesy: www.cnn.com