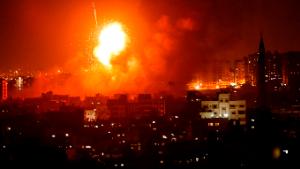 Jerusalem (CNN)Israel has launched air strikes on Gaza after Hamas militants fired rockets into its territory amid efforts to achieve a long-term ceasefire agreement.
The fighting Wednesday left three Palestinians dead in Gaza, including a mother and her young daughter, according to the Palestinian Ministry of Health, with injuries reported in Israel and Gaza.
According to the Israel Defense Forces (IDF), at least 100 rockets were launched from Gaza toward Israel, with rocket alarms ringing into the early hours of the morning. Twenty rockets were intercepted by Israel's Iron Dome aerial defense system, while most others landed in open fields in southern Israel.
Three people were taken to the hospital with light to moderate injuries when four rockets landed in Sderot adjacent to Gaza, a spokesman for Magen David Adom, Israel's emergency response service, said.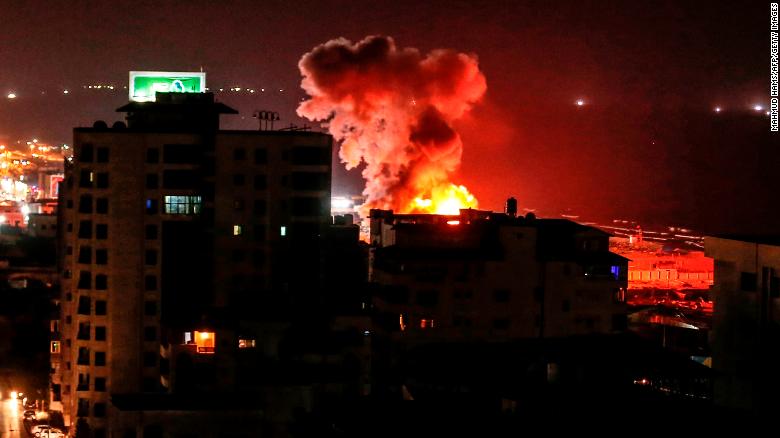 Smoke rises following an Israeli air strike on Gaza City.
Following the rocket launches, the Israeli air force struck more than 140 military targets across 20 sites in Gaza, including a factory for manufacturing facilities, training complexes, a maritime tunnel shaft, and other sites, according to the IDF.
The Palestinian Ministry of Health identified the deceased as 34-year-old Ali Ghandour, 23-year-old Inas Khamash, and her 18-month-old daughter, Bayan Khamash. Twelve others were injured, the Ministry said.
Warning of the imminent dangers of continued escalation, UN Special Coordinator for the Middle East Peace Process Nickolay Mladenov tweeted a statement early Thursday morning: "Our collective efforts have prevented the situation from exploding until now. If current escalation however is not contained immediately, the situation can rapidly deteriorate with devastating consequences for all people."
News Courtesy: www.cnn.com