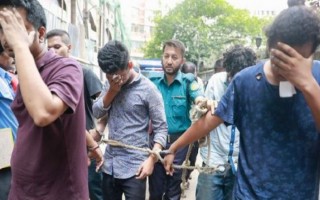 Dhaka metropolitan magistrate's court on Thursday sent 22 private university students to jail after they were interrogated for two days in police custody in two cases filed with Badda and Bhatara police stations allegedly for 'attacking police' during Monday's demonstrations demanding road safety.
Dhaka metropolitan magistrate Satyabrata Shikdar passed the order on Thursday, rejecting bail prayers of 22 students of North South, East West, South East and Brac universities.
Fourteen of them were accused in the case with Badda Police Station and eight others with the Bhatara police station.
People join a candlelight vigil, protesting at arrest of students who extended their support to the students demanding road safety, at Raju sculpture on Dhaka University campus on Thursday. — New Age photo
Badda police station's investigation officer Julhas Mia and Bhatara police station's investigation officer Hasan Masud produced the them at the magistrate's court after interrogating them during the two-day remand.
The students' bail applications moved by their lawyers were rejected by the magistrate.
In his submissions, lawyer Jayedur Rahman said that his clients were arrested on pure suspicion though they were not involved in any violent activity and they were tortured during interrogations in custody.
On Tuesday, the magistrate sent the students on two-day police remand.
On Wednesday night, Dhaka Metropolitan Police's
cyber security and crimes prevention division arrested online portal zoombangla.com's chief executive officer Yusuf Chowdhury, 40, and BUET student Daiyan Nasif Pradhan, 22.
Yousuf was arrested in a case filed with the Ramna police station on August 1 allegedly for circulating baseless report while Daiyan was arrested in another case filed with the same police station on August 5 allegedly for circulating 'rumour' on the facebook regarding school children's demonstrations demanding safe road, DMP officials told New Age.
On Thursday afternoon, Dhaka University authorities handed DU student Rafsan Ahmed to police alleging that he had made 'derogatory remarks' against Chhatra League and ruling Awami League on facebook, New Age DU correspondent reported.
Chhatra League president at the DU Institute of Education and Research MR Mukul Islam said they handed over Rafsan, a first year B Ed student to DU proctor for his derogatory remarks against AL and Chhatra League.
DU proctor AKM Golam Rabbani said that he had handed over Rafsan to Shahbagh Police Station for posting derogatory status on facebook.
Shahbagh police station officer-in-charge Abul Hasan confirmed that the DU authorities handed over a student of theirs to the police.
On Wednesday night, several squads of the DMP tried to arrest from the Basundhara Residential Area violence suspects.
However, none could be arrested, 'during the block raid, Bhatra police OC SM Qamruzzaman told New Age.
He said that the police's raids would continue.
At least 34 cases were filed with police stations in the capital against hundreds of people on suspicions that they took part violence during school children's demonstrations for road safety.
Five cases were filed under Section 57 of the ICT Act with three police stations, Ramna, Uttara Paschim and Roopnagar.
But the police did not record a single case against the attackers on journalists who covered the school children's movement for road safety though the attacks were made in the presence of the police.
Scores of student protesters and at least 20 journalists were injured on Sunday and Monday as police and ruling AL activists attacked students in the capital and elsewhere pressing for rad safety, shouting the slogan, 'We want justice.'
School children took to the streets seeking justice after two students of Shaheed Ramij Uddin Cantonment College were killed and 12 others injured by a speeding bus at Kurmitola in the capital on July 29.

News Courtesy: www.newagebd.net