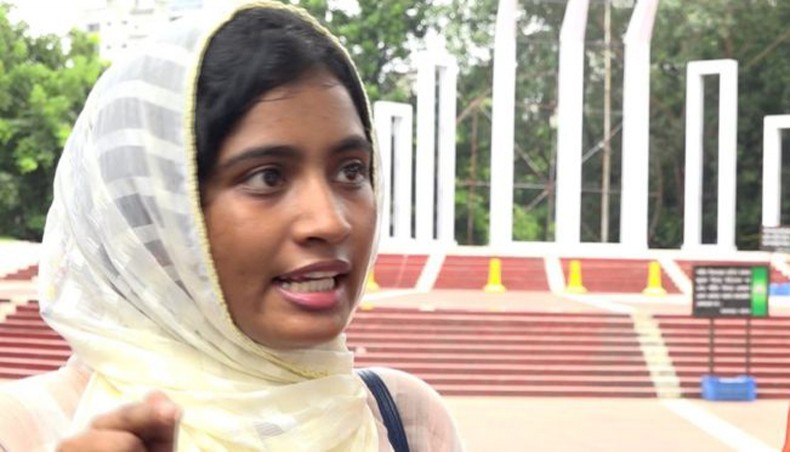 Most of the leaders of Bangladesh General Students' Rights Protection Council are now on the run fearing arrest and disappearance for supporting the latest student protests for road safety besides their movement for reform of quota system in public service recruitment.
Many of the quota reform protesters said that they were not living in their dormitories fearing torture by the ruling Awami League-backed student body Bangladesh Chhatra League while they could not stay at their houses fearing arrest as eight of their leaders had already been arrested since July.
In the latest incident, police arrested quota reform movement platform Bangladesh General Students' Rights Protection Council joint convener Lutfun Nahar Luna, also an Eden College student, at her uncle's house at Belkuchi in Sirajganj on Wednesday.
Meanwhile, unverified lists of 'rumour spreaders' went viral on social media and many of the quota reform protesters were reportedly been targeted while the police were also looking for people whose social media accounts were marked by pro-government activists.
'Those who are with us and those who support us are being arrested. We are in fear of enforced disappearance and arrest as our houses are being searched,' quota reform movement platform convener Hasan Al Mamun said from an undisclosed location.
Quota reform protesters said that seven of their leaders – Rashed Khan, Moshiur Rahman, Faruj Ahmed and Tarek Adnan of Dhaka University, Muhammad Jashim of Chittagong University and Muhammad Suhel Islam of Jagannath University, and Ratul Sarkar – were arrested since July in cases filed in early April.
Belkuchi police station officer-in-charge Abdur Razzak said that cyber crime unit of Dhaka Metropolitan Police with their help arrested Lutfun Nahar Luma at Khidro Chaprar Char village at Belkuchi at about 5:00am in a case filed under the Information and Communication Technology Act with Ramna police station in Dhaka.
Cyber security unit additional deputy commissioner Najmul Islam could not be reached for his comment.
A quota reform protester alleged that the AL supporters falsely blamed Lutfun Nahar for spreading rumours during the recent student protests for road safety.
'But,' the protester said, 'the video for which she was blame on the social media was neither made nor shared by her. We asked her
to leave Dhaka and she was arrested in Sirajganj.'
Another quota reform activist Sheikh Tasnim Afroz Emi, Dhaka University sociology department master's student, was picked up by the Detective Branch of police from the gate of her dormitory Shamsunnahar Hall at about 7:00pm on Tuesday.
She was, however, released after several hours of interrogation.
Besides the state agencies, Chhatra League general secretary Golam Rabbani on August 9 said that they identified some 700 Facebook accounts that 'spread rumours' during the road safety protests and he requested the information and communication technology minister to take action against those account holders.
A number of AL people continued spreading 'screenshot' of Facebook posts of different journalists, university teachers and other professionals asking others to attack them.
Golam Rabbani could not be reached over phone for comments.
Bangladesh Chhatra Federation Dhaka University chapter president Umme Habiba Benojir expressed concern over the incidents, saying that such oppression and intimidation were being carried out continuously to suppress a logical movement.
She said that the government was trying to establish a reign of fear to establish their one-party rule choking dissent voices.
'Now we want protection of life, and want withdrawal of the false cases filed to harass us,' said quota reform movement platform convener Hasan Al Mamun, also former Mohsin Hall unit Chhatra League vice-president.
Earlier on August 12, students seeking quota reform threatened to go for tougher movement if their detained leaders were not released before the Eid-ul-Azha, to be celebrated on August 22, and a gazette notification reforming the quota system was not published by August 31. They came up with the ultimatum from a rally in front of National Museum at Shahbagh.
Rights organisation Odhikar, in its report on August 1, said that the university authorities took sides with criminals instead of taking action against the attacks on protesting students and assaults on teachers.
The families of the detained protesters continued campaigns for their release.
Rashed's mother Saleha Begum at different rallies said she was approaching door to door for her son Rashed and their friends.
News Courtesy: www.newagebd.net