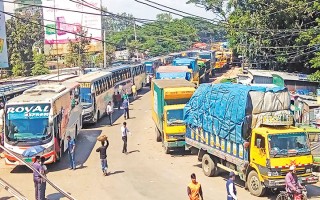 Holidaymakers, who set out on their Eid-ul-Azha journey on Friday, experienced severe disruption in ferry services on major water routes, road blockade and traffic congestions spanning miles.
Several hundred vehicles remained stuck for hours at Paturia-Daulatdia and Shimulia-Kathalbari ferry terminals on the day.
In Gazipur, agitated apparel workers blocked Dhaka-Mymensingh highway for more than six hours and vandalised some vehicles demanding dues.
A long tailback was seen on Dhaka-Chittagong highway for the fourth consecutive days on Friday.
New Age correspondent in Manikganj reports that ferry service on Paturia-Daulatdia route was disrupted by huge pressure of
vehicles and strong current in the River Padma.
The pressure on the route increased after shipping ministry in a release on August 12 urged heavy vehicles to avoid Shimulia-Kathalbari route citing navigability problem.
Till 6:30pm on Friday, more than 600 vehicles including 500 trucks were seen waiting on both sides of the route for being crossed.
Transport works and passengers alleged that instead of usual time of maximum 40 minutes, currently the ferries were taking 90 minutes to cross the route because of excessive current.
In the afternoon, two queues of mostly passenger vehicles crossed two kilometre stretch in Paturia while at Daulatdia terminal a queue of mostly cattle-laden trucks also crossed two kilometre stretch.
'I don't know when I will cross the river,' said cattle-carrying truck driver Abdus Salam around 6:00pm who came to Daulatdia Ghat around 8:00am on Friday.
Cattle traders at the terminal worried about the cattle which suffered for long in the scorching heat.
New Age correspondent in Munshiganj reports that on Friday only eight out of 19 ferries plied on the Shimulia-Kathalbari route for lack of navigability.
Capital's Rampura resident Bulbul Islam said on Friday that members of his family were scheduled to go to Khulna by an AC Eagle Paribahan coach around 10:30pm on the day but the trip was cancelled by the authorities because of huge tailback at Paturia ferry terminal.
New Age correspondent in Gazipur reports that agitated apparel workers from three factories of Elegant Group blocked Dhaka-Mymensingh highway at Hotapara about 9:30am demanding their dues till August 15 and vacation on next Friday.
Traffic came to a halt as they set fire to tyres on the highway and vandalised some vehicles.
A 25km traffic gridlock ensued on both sides of the highway causing immense sufferings to passengers, transport workers and cattle, said Gazipur assistant superintendent of police (traffic) Saleh Uddin Ahmed.
The workers withdrew the blockade around 4:00pm after Gazipur city mayor Jahangir Alam assured them of meeting their demands by Sunday following a meeting with workers, factory authorities and police.
New Age correspondent in Comilla reports that it took up to seven hours to cross the two-hour journey between Dhaka and Comilla as a 20km tailback stretched from Gomti bridge toll plaza in Daudkandi to Iliatganj on Dhaka-Chittagong national highway since the morning.
The situation remained more or less like this on the highway since Tuesday.
Daudkandi model thana officer-in-charge Nurul Islam said a huge number of cattle and other goods-laden vehicles on the road caused the congestion.
Since morning a good number of people were seen to gather at Mohakhali, Gabtoli and Saidabad terminals for going outside Dhaka.
During a visit to Mohakhali inter-district bus terminal, road transport and bridges minister Obaidul Quader claimed that Eid journey would be comfortable and sufferings would be tolerable after inauguration of 23 bridges on Dhaka-Tangail-Elenga highway.
He said that during the last Eid-ul-Fitr the Feni rail overpass on Dhaka-Chittagong highway had created some problems which would not be this Eid as the six-lane overpass had already been opened.
If cattle-carrying vehicles could be controlled and vehicles without fitness could be restricted, there would be no problem on the road, he assured.
At Kamalapur railway station, the crowded trains were mostly on northern routes while trains such as Dhaka-Khulna-bound Sundarban Express and Dhaka-Nilphamari-bound Nilsagar Express were delayed by about an hour.
Bangladesh Inland Water Transport Authority officials at Sadarghat terminal said that the pressure of holidaymaking people was yet to be seen.
Eid-ul-Azha will be observed on August 22 and the three-day Eid holidays will begin on August 21.
News Courtesy: www.newagebd.net