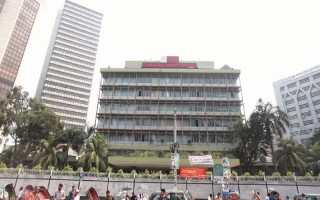 Economists and banking experts oppose the government move to allow restructuring large defaulted loans by making down payment up to Tk 1 crore.
There is a scope of misusing the facility by the large and wilful defaulters with political influence, they told New Age on Wednesday.
They also said allowing rescheduling of defaulted loans with so much paltry amount could not reflect any good governance in containing the decades-old loan default culture amid poor loan recovery rate.
As per the draft bailout package proposed by the Financial Institutions Division in consultation with the Bangladesh Bank and a high-powered committee appointed in June 2018, loan defaulters would be given 15 years to repay the loan with a two-year moratorium.
The defaulters would be charged with 7 per cent interest rate.
Such facility seemed rewarding the defaulters once again, said former caretaker government adviser Mirza Azizul Islam, adding that bad loans could only be shown to reduce artificially for a short period through it.
In 2015, the government allowed borrowers to restructure large loans, but the step could not help bad loan recovery.
The bad loans almost doubled to Tk 93,911.4 crore in 2018 from Tk 43,485.71 crore in 2015.
According to the existing bad loan rescheduling policy framed in 2015, loan defaulters have to repay long-term loans in 12 years and short-term loans in six years with a 12-month moratorium and with a discounted interest rate but not less than the cost of fund plus 1 per cent.
The loan defaulters now have to make 2 per cent down payment on outstanding loan amounting less than Tk 1,000 crore and 1 per cent down payment for a outstanding loans of Tk 1,000 crore or above.
Between 2003 and 2015, the Bangladesh Bank allowed applicants to make cash payment of at least 15 per cent of the overdue instalments or 10 per cent of the outstanding loan, whichever was less.
A rescheduling application for the second time was considered only after payment of minimum 30 per cent of the defaulted instalments or 20 cent of the total outstanding loan, whichever was less.
An application for rescheduling for more than twice was considered after a payment of minimum 50 per cent of the defaulted instalments or 30 per cent of the total outstanding loan, whichever was less.
Central bank officials said that state-owned commercial banks in the country gave no large loan until 1996.
Financial institutions division officials said that the draft bailout package was awaiting approval from finance minister AHM Mustafa Kamal, who already expressed willingness to cut back the amount of defaulted bank loan by policy supports.
Former Bangladesh Bank governor Salehuddin Ahmed suggested that the policy support should be finalised in a way so that wilful and habitual loan defaulters got no benefit.
Bad loans should be rescheduled on case-to-case basis to safeguard the banks especially the state-owned banks, he said.
State-owned commercial banks — Sonali Bank, Janata Bank, Agrani Bank, Rupali Bank, Bangladesh Development Bank and BASIC Bank — had bad loans of Tk 48,695.87 crore in 2018, 51.85 per cent of Bangladesh's total amount of such loans.
Zaid Bakth, chief of the high-powered committee appointed in June 2018, said that it was imperative to give restructuring scopes to create a breathing space for the state-owned banks facing problem in maintaining provision against the bad loans and capital shortfall due to loss in profit.
Policy Research Institute chairman Zaidi Sattar supported the view of Zaid Bakth but noted that providing such scope repeatedly proved that the state-owned banks were at 'the mercy of loan defaulters'.
The loan defaulters would get new lease of life at the cost of state-owned banks, he said.
For growing amount of bad loans the state-owned banks not only incurred losses but also were forced to take bailout fund from the government to meet their capital shortfalls.
According to the financial institutions division, Tk 9,788 crore was sanctioned for the state-owned banks, including over Tk 6,000 crore for scam-hit Sonali and BASIC banks, between FY13 and FY17.
Scam-hit Janata Bank has received Tk 1,214 crore bailout fund from the national exchequer.
Former Dhaka University economics department head MA Taslim said that incurring loss by the state-owned banks for defaulted loans and receiving bailout package from the public coffer became a common but vicarious cycle nowadays.
He said that only good governance in the banking sector could reverse the situation.
He expected the government to take the leading role to establish the good governance.
Supporting the view, former central bank deputy governor Khondokar Ibrahim Khaled said that relaxing policy or giving policy support was already failed to contain the bad loan culture.
News Courtesy: www.newagebd.net