Cricket ready to welcome new champs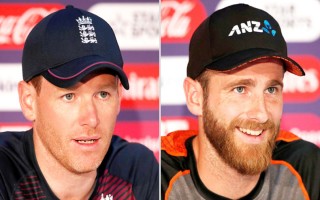 Cricket would get the chance to repay some of its debt to the country that gave its birth when England play New Zealand in the World Cup final at Lord's today after a tournament filled with action and drama in the past one and a half months.
Dublin-born Irishman Eoin Morgan will lead England against Kane Williamson's New Zealand in the final that may determine the fate of the game in its birthplace with interest about it among the commoners dwindling fast.
It's a mere co-incidence that the World Cup final has collided with the fixture of Wimbledon men's singles final in the same city and British Formula One GP – scheduled at Silverstone Circuit, just 50 miles north of London.
The three top events on the same day in one country have forced the official broadcaster of the World Cup, Sky TV, to put the final on terrestrial channel and make it a free-to-air event as it faces tough competition to attract the local viewers.
An England win over New Zealand in the final, however, may change the future, as it will make cricket one of the very few games to give the country a rare global success.
England had had a lot of disappointments at the major events of most sports with their success limited to winning just the World Cup football in 1966 and World Cup rugby in 2003.
Cricket earned a fair share of disappointment for England as the country lost three finals and failed to make it to one in the last 27 years since Graham Gooch's team lost to Imran Khan's Pakistan by 22 runs at Melbourne.
A walloping at the hands of Bangladesh in Adelaide four years ago was the last thing that England could expect, whhampich eliminated the side from group phase in Australia-New Zealand in 2015.
It forced them to review their game and bring a change in their style that became so effective that they started the event this year as favourites, not just because they are the hosts but for the top brand of cricket that they play now against all teams.
England will take the field at Lord's today against New Zealand carrying the same favourites tag without being expected to change their style that has earned them so much admiration from others.
England's style was full on display in their semi-final win when they not just defeated Australia but humiliated the five-time champions to end their title defence.
England had a tricky passage to the final as they faced the danger of crashing out at one point before producing three scintillating performances that culminated in their win over Australia.
They have peaked just in the right time to present the country their best hopes of lifting their first World Cup title.
They, however, will face an opposition, which has very little to lose and will possibly play with less pressure after overcoming the odds to make their successive finals.
New Zealand already know what it takes to play a World Cup final against a host country, having lost to Australia in 2015 and should take heart from their semi-final win over India, when very few people gave them a chance.
Unlike England, cricket has a distinct place in New Zealand with only rugby topping the game in terms of popularity.
A World Cup win may not change the fact but it will be duly celebrated as New Zealand's first and they will get it as deserved team coming into the tournament ranked just behind England.
News Courtesy: www.newagebd.net