England crowned new kings of cricket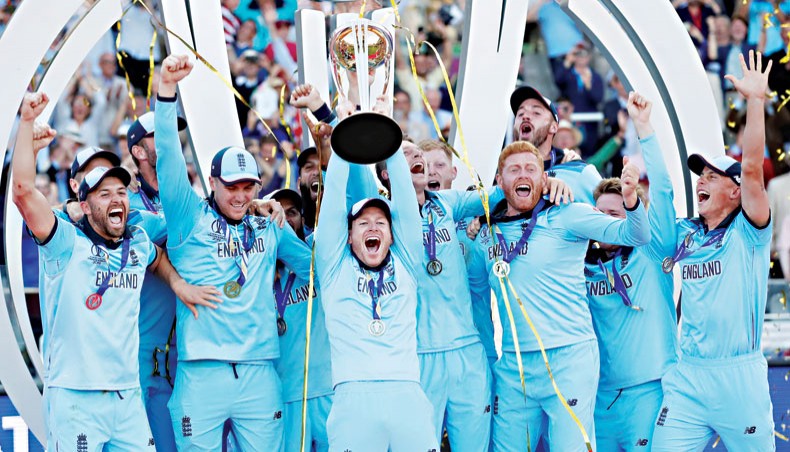 If anyone had to write a script for a cricket match even he could not have made it more dramatic.
In a World Cup final, after 102 overs of intense battle, two teams remained unseparated and one had to be declared winners because the rule was set this way.
England were the luckiest team to be named winners and crowned new world champions because they hit more boundaries than New Zealand as both stipulated 50 overs and the super over ended in a tie.
England had all-rounder Ben Stokes to thank for taking them to the super over with the innings of his life, an unbeaten 84 off 98 balls, an innings that one could play only in his dream.
New Zealand had the edge until the second ball of the final over, when they had to defend 15 runs, but Stokes neutralised their advantage with a six off Trent Boult's third ball.
A huge luck came to England's way in the next delivery as Stokes attempted the second run only for the ball to hit his bat and race past the boundary to yield six runs for his side.
It brought the equation down to three from last two balls and despite his misfortune, Boult kept his cool to give just one single in the fifth ball.
It left England needing two runs from the last ball which they nearly got only for New Zealand to respond with a brilliant piece of fielding that helped them run out Adil Rashid as he sprinted for second run.
England were suddenly all out for 241 runs, the same score that New Zealand made after they won the toss and elected to bat first.
It produced the first ever super over in one-day international history and England made 15 runs, thanks again largely to Stokes and his partner Jos Buttler in the game.
New Zealand, in response, got 14 runs in the first five balls, but had to score two in the last ball as tie was not enough for them due to the lesser number of boundaries and over boundaries they had in game proper.
But Martin Guptill was run out in an attempt to score the second run which finally handed England the title after their three futile attempts in the final previously.
The hosts owed everything to the nerves of Stokes and Buttler, who earlier overcame enormous pressure to share a century stand and salvage the side from the brink.
England's World Cup hopes were in tatters once Lockie Ferguson claimed a low, diving catch at mid-off off James Neesham to dismiss Eoin Morgan for nine and leave the hosts with a mountain to climb.
But Stokes and Buttler batted with extreme courage without looking at the scoreboard, which allowed them to soak up the pressure before they could finally swoop on the bowlers.
Ferguson broke their 110-run stand by removing Buttler for 59 and had Chris Woakes dismissed for two in his next over to give New Zealand a sniff to the title only to be denied by Stokes.
England had the odds against them despite restricting New Zealand to a modest score as no side could ever win a World Cup final at Lord's batting second.
The hosts were the happier side at the innings break as Liam Plunkett and Woakes claimed three wickets each to limit New Zealand's scoring.
The hosts got the favour of luck from the very first ball of the innings as Jason Roy survived a strong leg before appeal which New Zealand reviewed unsuccessfully.
But the Kiwis never lost faith in their ability and bowled very tight despite some early punches from Jonny Bairstow, the man who had three centuries in their last three meetings.
Once they got an opener with Matt Henry removing Roy for 17, the Kiwis made regular breakthroughs to leave England chocking in the middle.
England had earlier an unlikely hero with the ball in Plunkett, who claimed the prized scalp of Williamson for 30 and then had their set opener Henry Nicholls dismissed for 55 before finishing with 3-42.
New Zealand had to curse Guptill for wasting their review that denied Ross Taylor, one of the very few accomplished batsmen of the side, who was given leg before erroneously for 15.
Taylor's untimely dismissal threatened New Zealand to be restricted to mediocrity only for Tom Latham to come to their rescue with a defiant with 47 off 56 balls, which not only gave them a total to defend but saved the final from going one-sided as was the case in 1999, 2003 and 2015.
News Courtesy: www.newagebd.net