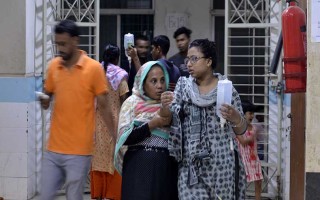 The number of hospitalised dengue patients this year rose to 49,999 as of 8:00am Friday since January 1 after dengue took an alarming turn recently prompting many caregivers to refer to the situation as no less than an epidemic.
With new patients being admitted to different hospitals throughout Friday, the number of hospitalisation of the mosquito borne viral disease patients crossed 50,000 mark.
Dengue killed so far at least 104 people, according to unofficial reports, though the government put the number at 40.
With hundreds of dengue patients taking admission across the country every day and with the peak season of dengue infection — September and October — right around the corner, fear grew that the dengue situation would aggravate further in the coming days, experts said.
Public health expert and former director of Institute of Epidemiology, Disease Control and Research, Mahmudur Rahman, believed that the dengue situation was such that it was already an 'epidemic'.
'The government needs to officially admit that dengue situation is now an epidemic,' he told New Age.
The cases hospitalised with the dengue infection crossed the 6,000 mark four times since 2000, the year dengue appeared in Bangladesh and health services started keeping record, with 6,232 in 2002, 6,060 in 2016 and 10,148 in 2018.
But this year, according to the Health Emergency Operation Centre and Control Room of Directorate General of Health Services, at least 49,999 people were hospitalised with dengue this year with 31,538 in the last 16 days of August alone and 16,253 in July.
Dengue infections were mostly concentrated in the capital in the previous years but this year the disease spread all over the country and more people were being hospitalised outside the capital.
In the past 24 hours, ending 8am Friday, at least 1,719 new dengue patients were hospitalised across the country with 759 in the capital and 960 in different districts.
August 7 of the current year saw the highest number of dengue patients — 2,428 in all — admitted to hospitals in a single day and there was a steady fall after that.
The lowest number of 1,200 dengue patients was admitted to hospitals in a day this month on Tuesday, the last day of Eid vacation.
However, the number of dengue patients started to rise after Eid vacation was over. On Wednesday, 1,880 dengue patients were admitted to hospitals.
On Thursday, 1929 dengue patients were admitted to different public and private hospitals.
According to the Friday's report of the control room, the number of admitted patients currently undergoing treatment in government and private hospitals combined stands at 7,716.
At least 4,015 patients were currently receiving treatment in 40 government and private hospitals in Dhaka, whereas at least 3,701 people were undergoing treatment outside Dhaka, the control room said.
Among those admitted, a total of 42,243 have been released from their respective hospitals and clinics after treatment.
Ayesha Akther, in-charge, Health Emergency Operation Centre and Control Room, said that that dengue outbreak was reported much earlier this year because of the weather conditions, which was favourable for aedes mosquito breeding, especially because of intermittent rains.
She said that the weather condition seemed to have been largely favourable for spread of dengue fever until now but hoped that public awareness would help contain it soon.
Dhaka Medical College associate professor of medicine Robed Amin said that to improve the situation every section of the society would have to be engaged in killing adult aedes mosquitoes and their larvae.
For instance, he said, the Philippines could control dengue epidemic only after it announced an emergency and called in the military to eliminate the dengue vector after the disease killed about 500 in six months.
'The government must engage everyone effectively to eliminate aedes,' said Robed.
News Courtesy: www.newagebd.net