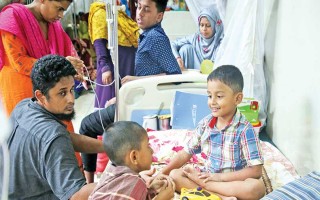 With four more dengue patients dead and 1,460 others hospitalised on Saturday, the Directorate General of Health Services said the next seven days would be crucial for controlling dengue spread and destroying aedes mosquitoes, the vector of the viral fever.
The DGHS, in a news briefing at its office on Saturday, said people were returning to the capital after Eid holidays at a time when the weather was unfavourable to them.
The briefing also mentioned that this gave rise to a challenging situation both in terms of controlling dengue spread and thwarting breeding of aedes mosquitoes.
'The next seven days are crucial for reigning in the dengue situation… people are returning to Dhaka from villages after Eid while the weather situation is not favourable for us,' said DGHS director for disease control Sanya Tahmina.
Tahmina clarified to New Age that the recent rain in the capital made an ideal environment for aedes breeding.
'If we could not keep vigil and failed to destroy aedes breeding grounds and keep us safe from mosquito bites, the dengue situation might turn worse,' she said.
'The next seven days will tell us what the future course of dengue will be,' Sanya said.
DGHS director general Abul Kalam Azad also said at the news briefing that the next seven days would suggest what the dengue situation would look like in the coming days.
He urged everyone to make all-out effort to keep aedes mosquitoes at bay by destroying aedes habitats and keeping everyone safe from mosquito bites.
Aedes mosquitoes live in and around urban habitats and breed mostly in man-made clean water-filled containers like giveaway cans, pots, cups, flower tubs, coconut shells and tyres in and around households.
Unlike other mosquitoes, aedes feeds at daytime. Its peak biting period is two hours after sunrise and two hours before dusk.
Eradicating aedes larvae and destroying the breeding grounds is the best way to keep dengue away, Sanya emphasised.
She said city corporations and citizen themselves would have to become aware as the rainy weather was now prevailing, an ideal environment for aedes breeding.
She said the doctors were alerted of how to manage dengue patients in the coming days.
Meanwhile, the government on Saturday launched an android mobile phone-based application named 'Stop Dengue', through which anyone can report dengue infection and suspected dengue breeding ground.
The app was developed by five ministries and division with the support of E-cab, said a release of Health Services.
The app will help create a dengue intensity map, it said.
The dengue situation, meanwhile, continued to turn bad to worse every day.
On Saturday, three more people including an infant died of dengue and 1,460 new dengue patients were hospitalised across the country.
With these four deaths, at least 108 people died of dengue this year, though the government record put the death toll at 40.
According to Health Emergency and Operation Centre control room data of DGHS, in total, 51,476 dengue patients were hospitalised this year, including 33,015 in the past 17 days of August alone and 16,253 in July.
The number of dengue patients in the districts also continued to rise and at present surpassed the number of dengue patients in the capital, where dengue mostly occurred in the previous years.
In the past 24 hours, 839 new dengue patients were admitted to hospitals in the districts and 621 in the capital.
At least 7,856 dengue patients were under treatment at different hospitals on Saturday, with 4,043 in the capital and 3,813 in the districts.
Saturday's deaths were reported from the capital and Faridpur.
In the capital, a six-month old boy died at Dhaka Shishu Hospital while a woman died at Dhaka Medical College Hospital.
Dhaka Shishu Hospital epidemiologist Kinkar Ghosh told New Age that the six-month-old baby, Ayazur Rahman, died after suffering from dengue hemorrhagic fever while undergoing treatment at the hospital around 2:00am Saturday.
The infant was admitted with dengue at the hospital on August 14.
With the infant's death, at least 11 children died of dengue at Dhaka Shishu Hospital, Kinkar said, although government data said only four children died of dengue at hospitals so far.
At Dhaka Medical College Hospital, a woman, Monwara Begum, 45, wife of Saiful Islam, from Mithamain upazila of Kishoreganj, died of dengue around 12:00am on Saturday, reported our correspondent in the hospital.
Monwara's husband Saiful said she had been suffering from dengue fever since 10 days ago.
On August 13, she was referred by a local hospital to the DMCH, where she died early Saturday at its intensive care unit.
With this death, so far 28 people died of dengue at the hospital, officials said preferring anonymity.
The officials further said that they were under pressure from the government as their death figures contradicted official statistics.
In Faridpur, a college student died of dengue while undergoing treatment at Faridpur Medical College Hospital on Saturday morning, reported New Age Correspondent in Magura.
The deceased was identified as Sumon Bashar Raj, 18, son of Mizanur Rahman of village Changpur in Magura.
He was a second year student of a government college in Magura.
New Age correspondent in Sirajganj reported that a college student died of dengue at Bangamata Sheikh Fazilatunnesa Mujib General Hospital in Sirajganj.
The deceased, Mehedi Hasan, 17, was a first year student of Govt Hazi Korob Ali Memorial Degree College.
Residential physician of the hospital Faridul Islam confirmed the news.
News Courtesy: www.newagebd.net