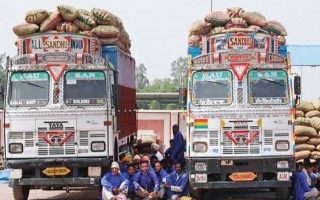 There was a rise in transshipment of Indian cargos through Bangladesh territory in the immediate past fiscal year but that was still far lower compared to the initial impression that the country would highly benefit from providing the facility to its next-door neighbour.
Bangladesh earned a meagre sum of Tk 17,81,184 as transshipment fees for 9,277 tonnes of cargos in the 2018-19 fiscal year.
The fees Bangladesh earned in 2017-18 were a paltry Tk 4,66,339 for transshipment of 2,270 tonnes of goods.
According to the Bangladesh Inland Water Transport Authority, Indian traders so far transshipped 18,377 tonnes of goods (including 5,826 tonnes for Tk 11,198,73 in 2016-17 and 1,004 tonnes for Tk 1,92,968 in 2015-16) from Kolkata to Akhaura border gates into Tripura of India via the Ashuganj river port in Bangladesh since the introduction of the transshipment facility at the rate of Tk 192.22 duty per tonne in 2015-16.
But these amounts were far lower compared to the two large cargos – a 7,297-tonne power plant in 2010-11 and 19,537 tonnes of rice in 2014-15 – transshipped on the same route.
Dhaka allowed Delhi to take those cargos using Bangladesh territory at free of cost under 'special political consideration'.
In the first two months of the current fiscal year, no major vessel with Indian goods docked at the Ashuganj river port to use the transshipment facility although an impression was given earlier that the port would remain busy handling transportation of Indian cargos while local private shippers would also gain immense benefit.
'Such impression has proved wrong,' said Mahmood Siqqidue, general manager of Anbis Development Ltd that provided transportation service for the first transshipment consignment of 1,000 tonnes of iron to Agratala in 2016.
He told New Age on Sunday that he could not remember when the company's shippers transshipped any Indian cargo.
He blamed that as no comprehensive study was carried out by the government of Bangladesh on the probable demand for the facility it was now facing this unexpected situation.
BIWTA chairman M Mahbub-ul Islam, however, said that they expected increase in demand from Indian traders with the implementation of projects like an inland container port at Ashuganj with an estimated cost of Tk 1,293 crore by 2021.
Of the amount, the Bangladesh government would provide Tk 862 crore and the rest Tk 431 crore would come from India as credit.
Mahbub also said that upgrading of the 5-km Ashugang–Akhaura road taken up in 2018 at a cost of Tk 3,568 crore, 63 per cent of it is Indian credit, will be completed in the next year for smooth movement of Indian goods.
According to a report titled 'No takers for transit facility through Bangladesh' in the HinduBusinessLine on 16 August, 2017, Delhi was not in a position to suspend the facility despite a minimal demand from its traders.
Delhi is still keen to keep the transshipment option open as it can be used for ferrying essentials in case of emergency, says the report.
The Awami League-led government in 2010 agreed to the transshipment fee of Tk 192.22 per tonne of goods though the the Core Committee on transshipment, led by then chief of the Bangladesh Tariff Commission, proposed the fee to be Tk 1,245.
The transshipment fee was in addition to other fees including voyage charge of Tk 2,500 per tonne, pilotage fee, canal charge, berthing charge already in place as per the protocol on Inland Water Transit and Trade between the two neighbours since 1972.
The maintenance fee for keeping navigability of four water-based routes – Kolkata-Chandpur-Pandu-Silghat, Kolkata-Chandpur-Karimganj, Silghat-Pandu-Ashuganj-Karimganj, Rajshahi-Dhulian-Rajshahi – by the Bangladesh Inland Water Transport Authority under the protocol was Tk 25,000 initially and it increased in phases to Tk 10 crore in 2012.
Bangladesh's independent think-tank Centre for Policy Dialogue was among the enthusiastic supporters for greater regional connectivity which in a 2010 report said that the country could reap a net profit of $2.3 billion in 30 years by giving 'transit facilities' to India, Nepal and Bhutan.
The CPD report also noted that the 'transit revenue' would be low in the first five years since many constructions and arrangements would have to be done and the potential benefits in full would be realised from the sixth year onward.
CPD distinguished fellow Debapriya Bhattacharya refused to comment on the transshipment issue.
He said trade experts of the CPD can give a better view about the overall situation.
Another CPD distinguished fellow, Mustafizur Rahman, referring to a 2017 study by the think-tank said long turnaround time ranging from 21 to 28 days, poor port facilities, transit-related procedural hassles and the road and rail transports through the Siliguri corridor as the reasons for the limited use of the transshipment facility.
Transporting goods through Siliguri has become an attractive option after the introduction of broad-gauge rail services to Agartala since January 2017, he said.
He, however, said that still the Ashuganj river port had the potential for emerging as a busy transhipment hub when the necessary infrastructure like a container port and a four-lane highway for transshipment would be completed.
News Courtesy: www.newagebd.net