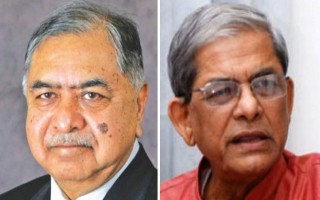 Jatiya Oikya Front leaders on Wednesday briefed foreign ambassadors and high commissioners about the country's political situation.
During a two-hour meeting since 10AM at the Gulshan residence of BNP leader Dr Abdul Moyeen Khan, the JOF leaders briefed the envoys about BNP chairperson Khaleda Zia's health condition in the prison, about the cases against her, the Rohingya crisis and the prevailing political and economic conditions.
The meeting over, a JOF leader told New Age that the diplomats were also briefed about denial of bail to JOF steering committee member barrister Mainul Hosein and sending him to jail.
JOF top leader and Gonoforum president Kamal Hossain told reporters, 'We discussed the latest situation in the country as the diplomats wanted to know about the latest situation.'
'You know what sort of elections were held in the country, they also know about it, the foreigners listened to us,' he said.
'We came to Moyeen Khan's residence at a tea party. Foreign ambassadors and high commissioner wanted to know about the political situation. You might say, we exchanged views with them,' said JSD president ASM Abdur Rob.
'The diplomats only listened to us and took notes but made no comments,' Gonoforum executive president Subrata Chowdhury told New Age.
The US ambassador, the UK high commissioner, the Canadian deputy high commissioner, the EU representative and the UNDP resident representative were present among the envoys, according to JOF leaders.
BNP secretary general Mirza Fakhrul Islam Alamgir, standing committee member Amir Khasru Mahmud Chowdhury and Nagarik Oikya convener Mahmudur Rahman Manna also attended the tea party.
News Courtesy: www.newagebd.net