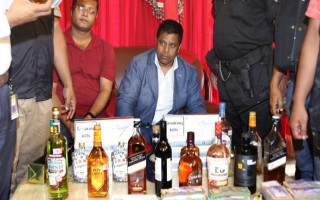 The recent arrests of crime suspects, including leaders of the ruling party and pro-ruling party organisations doing business, have exposed that their companies were awarded many big government infrastructure projects and sensitive security printing contracts.
Terming worrisome such people's business relationship with the government which might threaten national security, experts said that it was very difficult for any businessman to bag such public deals and security-related contracts without having good links with the policymakers.
Of the arrested, Salim Pradhan, owner of the Japan-Bangladesh Security Printing and Papers Limited or JBSPPL, supplies bank cheques and other banking instruments to at least 18 commercials banks including the state-owned Sonali and Agrani banks.
Besides, 16 private universities and institutions and at least 20 corporate entities are in the client list of this company that began its operation in 2009, according to information available in the company's website.
Salim's suspected role in money laundering and narcotics trade have raised apprehensions that it was not difficult for him to abuse sensitive bank cheque books and certificates that his firm prints although the bankers were not aware of such possibilities before his arrest on September 30.
Former Bangladesh Bank governor Salehuddin Ahmed told New Age on Thursday that the suspected criminal link of the JBSPPL owner made it an imperative for its client banks to become alert in future.
The client banks should have periodic reviews of their deals, he cautioned.
The Bangladesh Bank has been asking all banks to install fraud detection machines in all their branches against the backdrop of growing complaints of cheating from clients since 2017.
Sonali Bank managing director Ataur Rahman Prodhan said on Thursday that he had to know whether this bank was still a JBSPPL client.
'I will immediately scrap the deal(s) if Sonali Bank is still found to be the company's client,' he said.
Before joining the bank as its MD in August, Ataur Rahman served as the managing director of Rupali Bank, another state-owned bank.
He said that he did not accept a proposal from the JBSPPL to have Rupali Bank as its client.
Former cabinet secretary Ali Imam Majumder opined that the government intelligence agencies could not avoid their responsibilities of cautioning in advance the commercial banks about Salim's link to criminal activities.
The arrest of Golam Kibria Shahim, another crime suspect and a self-proclaimed ruling party youth front leader, sparked questions as to how his company GK Builders could bag as many as 17 contracts on construction of important public buildings at a staggering total cost of Tk 3,000 crore.
Ali Imam doubted that proper scrutiny was made to assess the technical and financial capabilities of the GK Builders in awarding the government building projects.
According to public works department records, the contracts GK Builders won included construction of the cabinet division and finance ministry buildings at the secretariat at Tk 150 crore each, RAB Headquarters Building at Tk 500 crore, NBR Building at Tk 400 crore, Mohakhali Sheikh Raussel Gastro Liver Hospital at Tk 200 crore.
The other projects it was awarded were: expansion of the Suhrawarhy Hospital at Tk 400, expansion of the National Institute of Traumatology and Orthopaedic Rehabilitation Building at Tk 350 crore, Chattogong Hill Tracts Complex at Tk 300 crore, Science Museum at Tk 100 crore, Neuroscience Hospital at Tk 80 crore, NGO Foundation at Tk 65 crore and five more projects at Tk 25 crore.
Experts said that without 'blessings' from the relevant government agencies no firm could win contract after contract of such nature in such a way.
A triangular collusion between businessmen, politicians and bureaucrats should be blamed for the awarding of such sensitive government contracts without proper scrutiny about the identity of the contractors concerned, said Transparency International Bangladesh executive director Iftekharuzzaman.
He noted that scrutinising the identity of the contractors became a 'forgone matter' since the members in the collusion worked on a win-win basis.
Housing and public works minister SM Rezaul Karim told New Age on Monday (October 14) that GK Builders won the contracts as the lowest bidder.
He further said that since GK Shamim's company was awarded the contracts the ministry had little scope to check the company owner's other activities including his role in suspected money laundering.
Answering whether the possible or suspected criminal links of the contractors should be checked in future before awarding contracts, Rezaul Karim said that they would abide by the law.
A former secretary of the Implementation Monitoring and Evaluation Division of the planning commission on condition of anonymity said that the government introduced electronic tendering to curb tender manipulation.
But the ministries and divisions and their subordinate bodies can prepare tender documents in such a manner that certain companies and contractors can have advantage over others, he pointed out.
News Courtesy: www.newagebd.net