Players end strike as BCB accepts demands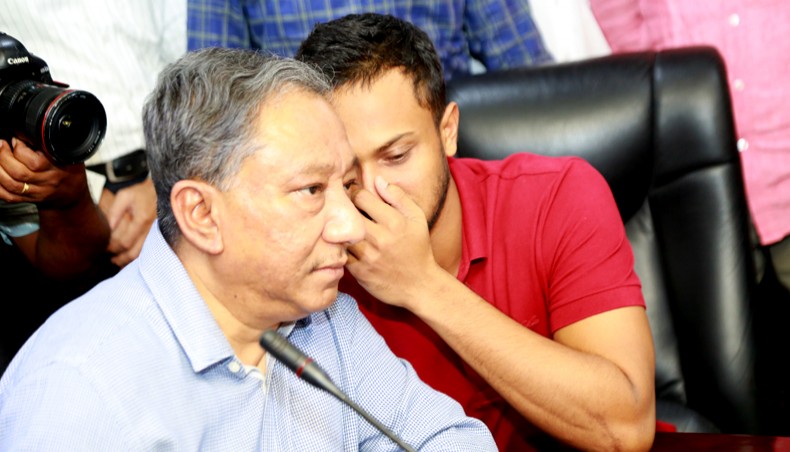 The striking Bangladesh players ended their boycott and decided to return to the field next week after holding talks with the Bangladesh Cricket Board officials at Mirpur late on Wednesday.
'The talk was successful, the BCB president and directors who were here they heard our demands and they assured us they will fulfil them at the quickest possible time,' said national Test and Twenty20 captain Sakib al Hasan.
'Based on that assurance our first-class players will start playing from Saturday and our national team players will start camp (for India tour) from Saturday,' Sakib said.
Sakib said that the officials of the Cricketers Welfare Association of Bangladesh also agreed to organise an election at the earliest possible time to accommodate the representative of current players.
BCB president Nazmul Hasan said they agreed to fulfil at least nine demands of the players.
'Among the 11 demands they made, the first demand is not in our hand [CWAB] and we told them that we will decide about the last demand [participation in more than two franchise leagues]. Apart from these two demands, we have agreed on all their nine demands,' said Nazmul.
'We wanted to cancel the third round of NCL. But the players said that they wanted to play and they wanted to reschedule the third round of play. So we have decided to start the third round from Saturday,' he said.
Nazmul said they sent the two new demands of the players to the Board's legal department.
'We haven't made any decision about the last two demands. When we saw that a legal advisor is involved in the case, we referred the matter to our legal advisor,' he said.
Supreme Court lawyer Mustafizur Rahman Khan earlier in the evening read out a list of 13 demands on behalf of the players at a news conference, which included two fresh demands – a share of BCB revenue and better wages for women players.
'One player sacrifices his academic career at the age of 16 to 17 years. He skips his studies and starts playing cricket,' Rahman said.
'I have spoken with many cricketers and these are very intelligent boys and girls. If they started studying, they have the potential to study at BUET, IBA. You can see BCS officer from them. They risk their life to play cricket,' he added.
Rahman claimed that the players were fighting not only for their own benefit but for a change in system that would help every stakeholder.
'A total of 16 groundsmen have resigned in the last one month for not earning much. When it is difficult to get a job in Bangladesh, these groundsmen are quitting their jobs,' he said.
Rahman pointed out that Bangladesh's new spin bowling coach Daniel Vettori would get a daily wage of $3500 for working each day, which is much higher than the wage of the local coaches.
Rahman also highlighted the discrimination that the players suffer during a tour as they get $50 as daily allowance when the touring BCB directors take $500 for each day.
Members of Bangladesh national cricket team and dozens of first-class cricketers earlier on Monday announced boycott of all national and international cricket unless their 11-point demand was met.
The demands include respect from the Bangladesh Cricket Board members, restoration of the previous pay structure in Dhaka Premier League, a promise for returning to franchise-based Bangladesh Premier League from the next season, at least Tk 1 lakh match fees for the National Cricket League, at least 30 players in national payroll and 50 per cent rise in the salary of first-class players.
The strike comes just weeks before Bangladesh is due to play three Twenty20 internationals and two Tests in India next month.
BCB president Nazmul Hasan on Tuesday sensed a conspiracy behind players' move and added that one or two players could be involved.
Before holding talks with players, Nazmul and BCB director Naimur Rahman met prime minister Sheikh Hasina at her official residence in Ganabhaban on Wednesday.
News Curtesy: www.newagebd.net