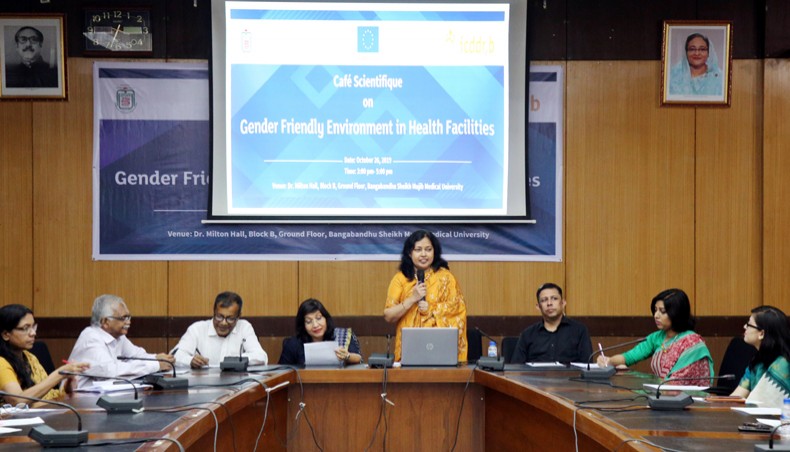 A group of researchers and physicians on Saturday said though the health facilities were supposed to be unbiased towards gender, Bangladesh hospitals were yet to become gender friendly.
Speaking at a Café Scientifique on gender friendly environment in health facilities, they said the health facilities should formulate a policy so that gender equality was ensured for both the patients and the service providers.
The International Centre for Diarrhoeal Disease Research, Bangladesh and the Bangabandhu Sheikh Mujib Medical University jointly organised the discussion.
BSMMU public health and informatics associate professor Fariha Haseen said Bangladesh was committed to ensure gender friendly environment in all spheres of life and a number of laws and regulations were in place but the expected gender equality was yet to be established at health facilities.
She said it was time now to find out the barriers to make the environment of the health facilities gender friendly.
ICDDR,B scientist Iqbal Anwar said there were lack of data about the extent of gender equality and the problems that were faced in Bangladesh.
He said the ICDDR,B recently conducted a study and its preliminary data showed the health facilities in Bangladesh were not sufficiently gender friendly.
Hospitals in the country do not have separate medicine counters, lack privacy at emergency unit, waiting room, do not have separate wash rooms and even males were frequent in the female wards, the study found.
BSMMU public health and informatics associate professor M Khalequzzaman said the female doctors and nurses were harassed not only by the attendants, but also by their male colleagues. He said women should not be looked as women rather they should be considered as human.
The speakers said the health facilities should have gender policy which should be strictly implemented and the implantation should be monitored.
They also suggested the health facilities should have gender indicator monitoring and a committee should regularly analyse the indicators.
News Courtesy: www.newagebd.net