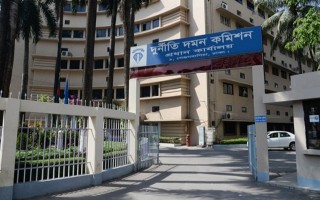 The Anti-Corruption Commission is considering confiscation of wealth of the people who are facing inquiry over alleged involvement in illegal casinos and money-making activities.
The commission is mulling over the step after it found huge illegal wealth in the names of the corruption suspects while the commission has already filed six cases against the illegal money-makers and their family members.
In its latest step on Sunday, the anti-graft body filed a case against Japan-Bangladesh Security Printing and Papers Limited director Salim Prodhan on charge of accumulating illegal wealth worth Tk 12.27 crore.
The agency the same day also lodged a case against Mohammedan Sporting Club's acting director and Bangladesh Cricket Board director Lokman Hossain Bhuiyan on charge of gaining illegal wealth worth Tk 2.96 crore.
Earlier in the past week, the commission prosecuted controversial contactor SM Golam Kibria Shamim and his mother Ayesha Akter for possessing illegal wealth amounting to about Tk 297 crore and suspended Juba League leader Khaled Mahmud Bhuiyan for having illegal wealth worth Tk 5.58 crore.
In the week, the commission also sued ruling Awami League's Gandaria thana unit vice-president Enamul Haque Enu, joint general secretary Rupan Bhuiyan and two others for alleged involvement in the accumulation of illegal wealth.
Enamul and Rupan are siblings and the rest two – Harunur Rashid and Abul Kalam – are close aids of Enamul.
According to ACC officials, the commission found illegal wealth worth Tk 21.89 crore in the names of Enamul, Harun and Kalam while worth Tk 14 crore in the name of Rupon.
ACC officials said that the commission has the authority to confiscate wealth of corruption suspects after it has launched inquiry against such persons.
They further said that the graft watchdog had a plan to file prayers with the relevant courts seeking necessary permission to seize wealth of the people who had been prosecuted.
When asked, ACC director Sayed Iqbal Hossain, who led the team to investigate illegal casinos and money-making activities, told New Age that the officials concerned were preparing the petitions in this regard.
According to the ACC officials, at least 75 people, including politicians and current and former Public Works Department officials, were facing ACC inquiry on charge of alleged involvement in illegal casinos and money-earning activities.
They said that the commission was moving to slap a ban within a day or two on overseas travel by 11 current and former PWD engineers, including its former chief engineer Md Rafiqul Islam and former additional chief engineers Abdul Hye and Utpal Kumar De.
They mentioned that the commission had already imposed such ban on 23 of the 75 persons under its scanner.
On Sunday, ACC chairman Iqbal Mahmood told reporters at his office that the commission would initiate inquiry against the people whose names would be found implicated in the ongoing drive against corruption.
He said that none such person would be excluded from ACC inquiry.
On September 30 the commission launched an inquiry to identify the illegal wealth of the people involved in the unauthorised casino operations and other illegal businesses.
The commission in an emergency meeting on the day assigned its director Sayed Iqbal Hossain as the inquiry officer and its director general Sayeed Mahbub Khan as the inquiry supervisor.
As part of the drive, the National Board of Revenue has requested the central bank to provide detailed bank information of at least 50 people including Juba League and Awami League leaders, business people, former high-ranking PWD engineers and their family members.
They include AL lawmaker Nurunnabi Chowdhury, removed Juba League chairman Omar Faruk Chowdhury, suspended Juba League Dhaka south city unit chief Ismail Hossain Samrat, his close associate and the unit's vice-president Enamul Haque Arman, its organising secretary Khaled Mahmud Bhuiyan and Krishak League leader Shafiqul Alam Feroz.
On September 18 law-enforcing agencies launched a drive against illegal casinos and illegal bars in the capital and held several leaders of the ruling Awami League's youth front Juba League, among others, for their involvement in the casinos and other illegal businesses.
News Courtesy: www.newagebd.net