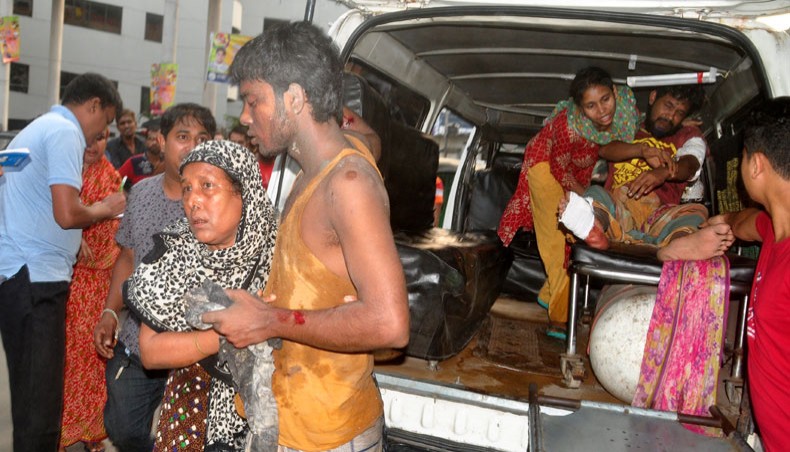 At least six slum children were killed and 17 others, mostly kids, were injured in a gas cylinder explosion near the Manipur School at Rupnagar Residential Area in the capital Wednesday afternoon.
The gas cylinder was being used to inflate balloons by a vendor.
Shahin, 10, Ramjan, 8, Rubel, 14, Nupur, 7 and Farzana, 9, died on the spot while Riya, 7, died at hospital. Among the injured, 15 were admitted to Dhaka Medical College Hospital and two others were admitted to the Hussein Shaheed Suhrawardy Medical College Hospital.
Hundreds of people gathered at the two hospitals to see the injured.
DMCH doctors told New Age that they were treating Mostakin, 8, Mim, 8, Ojupa, 7, Taniya, 7, Jamila, 8, her brother Bayejid, 8, Siam, 11, Mizanur Rahman, 5, Morsalina, 14, Neeha, 10, Arnab alias Rakib, 10, Jony 9, Jannat 25, Sohel, 25, and Jewel, 29.
The victims, gathered around the balloon vendor either to buy balloons or see how the gas was inflating the balloons, witnesses said.
DMCH resident medical officer Md Alauddin told reporters that a victim was admitted with burn injuries and the 14 others with multiple injuries.
He said that five of the children were not yet out of danger and described the condition of 5-year old Mizanur Rahman as 'critical'.
The explosion blew off the right arm of Jannat, he said.
SSMC Hospital director Uttam Kumar Barua told reporters that they received the bodies of five children and two injured were under treatment at his hospital.
The explosion took place at about 3:30pm when the vendor was inflating balloons on Road No 11, Rupnagar Residential Area, Rupnagar police station sub-inspector Parimal Chandra Sarkar told New Age.
Parimal said that the locals rushed to the spot as did the police and the Fire Service personnel to , rescue and take to injured to hospitals.
Injured Riya was rushed to the National Institute of Traumatology and Orthopaedic Research where she died soon afterwards, Rupnagar police said.
Eye witness Shahabuddin Ahmed who came to the DMCH said that on hearing a big bang he rushed the spot as did many others and saw many children lying in a pool of blood.
'Most of them were crying and groaning and a few were lying listless,' he said.
He said that the vendor was seen inflating balloons since 11.30am.
A fire service and civil defence official said that the bodies were mutilated.
Rupnagar police station officer-in-charge Abul Kalam Azad said that no case was lodged in this connection until 9:15pm.
News Courtesy: www.newagebd.net