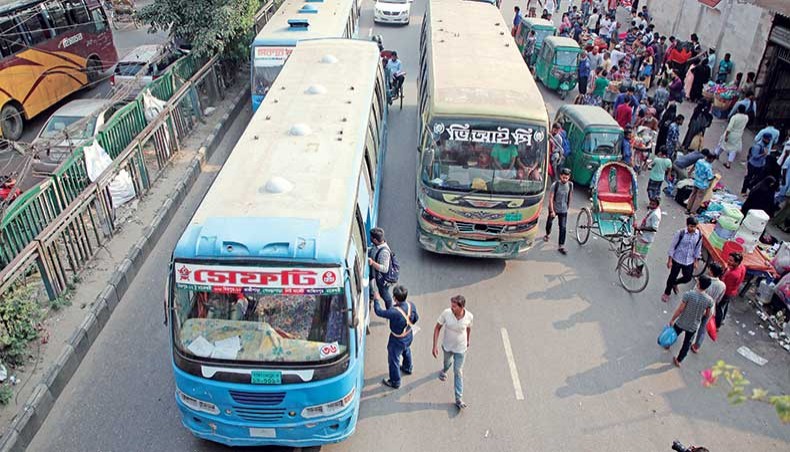 Violations of traffic rules continued on the capital's roads on Sunday, the first work day after the Road Transport Act, 2018 came into effect.
Officials of relevant government agencies said that they would continue an awareness campaign about the new law till November 7 before its implementation.
Earlier on Friday, the much talked-about law was put into effect across the country more than 13 months after it was enacted.
The road transport law prescribes fines for violators ranging from Tk 5,000 to Tk 5 lakh and imprisonment from one month to five years.
On Sunday, violations of traffic rules were seen on different roads and at various intersections in the capital.
Vehicles were seen standing on zebra crossings during signals for halts at the Shahbagh, Matsya Bhaban, Hotel InterContinental, Nilkhet and Kataban intersections.
City service buses were found allowing passengers to get on and off the buses at places other than designated spots.
Pedestrians were, too, seen crossing roads haphazardly not using the zebra crossings at the aforementioned intersections.
Vehicles like motorcycles and rickshaws were noticed running on wrong sides of the lanes, a major reason for traffic congestion and accidents.
In the Secretariat area, cars and double-decker buses were seen to park in even two rows at different sport on Abdul Gani Road.
Pillion riders on motorbikes were also seen on roads without helmets.
Besides, dented buses and underage drivers in buses were found across the city throughout the day.
Road transport and bridges minister Obaidul Quader at a programme on Saturday said that an awareness campaign on the new law would continue across the country for the next seven days.
On-duty traffic sergeants at the Shahbagh intersection told New Age that they would not file any case on violation of traffic rules till November 7 as an awareness campaign was continuing.
They were making people aware of the law, they added.
The Jatiya Sangsad on September 19, 2018 passed the Road Transport Act replacing the Motor Vehicles Ordinance 1983 in the wake of countrywide student protests after two students of Ramiz Uddin Cantonment College in Dhaka were killed by a recklessly-driven bus on July 29, 2018.
The Bangladesh Road Transport Authority is currently working to prepare rules for the road law.
News Courtesy: www.newagebd.net