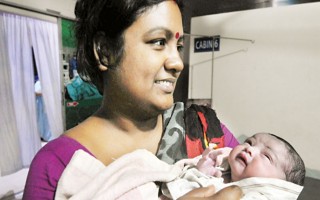 At least 14 mothers die each day due to childbirth complications in Bangladesh.
Between 2001 and 2010, maternal mortality rate declined from 322 to 194 in every one lakh birth.
Now, at least 196 mothers die per one lakh live births, according to the latest Bangladesh Maternal Mortality and Health Care Survey done in 2017.
In terms of newborn health, at least 17 newborn die per one thousand in Bangladesh, according to the survey done by the Bangladesh Bureau of Statistics in 2017.
Haemorrhage and eclampsia cause 55 per cent of the maternal deaths.
Other reasons include delivery by unskilled birth attendants, delivery at home and inadequate antenatal and postnatal care.
To reduce the maternal and newborn mortality, the government on Monday launched a 10-year National Strategy for Maternal Health at a posh hotel in the capital.
The strategy aims at reducing maternal mortality to 145 per lakh by 2020, 100 by 2025 and 70 by 2030, to achieve the Sustainable Development Goals.
It aims at reducing newborn mortality per one thousand to 16 by 2020, 14 by 2025 and 12 by 2030.
Unveiling the strategy, health minister Zahid Maleque said despite progress in recent years, Bangladesh was still facing challenges to reduce maternal and newborn mortality rates.
He called for united efforts to reduce the mortality rates.
The rate of birth at hospitals should be increased, he said.
Zahid blamed child marriage and mothers malnutrition for the existing mortality rates.
He criticized private hospitals for performing unnecessary cesarean sections to deliver babies.
Health secretary Ashadul Islam, Health Services director general Abul Kalam Azad and representatives of different UN organizations and USAID were present.
News Courtesy: www.newagebd.net