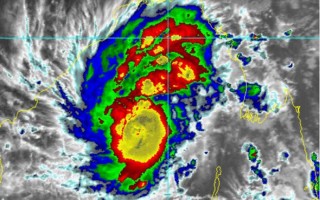 The highly severe cyclonic storm dubbed 'Bulbul' was getting stronger as it was barrelling towards the Sunderbans with authorities having ordered evacuation of people in danger in 13 coastal districts on Friday evening.
About 40 million people live in the vulnerable districts, seven of which are highly vulnerable.
The cyclone was moving at an average speed of 17 kilometres per hour towards Bangladesh.
'The evacuation has to be completed by 2:00pm today,' Cyclone Preparedness Programme director Ahmadul Haque told New Age on Friday evening.
'About four crore people live in the (vulnerable) areas and every one of them in danger would be moved to cyclone shelters,' he said.
Authorities have meanwhile shut down operations at the Chattogram and Mongla maritime ports, suspended works at the Payra port, which is under commissioning, and put the Cox's Bazar port on alert until further notice.
Over 1,000 tourists were reportedly stranded at St. Martin's island due to the rough sea.
The Bangladesh Water Transport Authority has shut down all river ports except the Barishal one from where vessels were allowed to travel upstream to Dhaka.
Ahmadul said that in the vulnerable districts all the 4,071 cyclone shelters were being prepared and thousands of volunteers were working to shift people at risk.
'It is natural with cyclones to change their course and lose strength any moment so we have decided to closely follow Bulbul's track till 11:00am Saturday,' said Ahmadul.
He said that the most vulnerable seven districts were Khulna, Bagherhat, Satkhira, Barguna, Pirojpur, Patuakhali and Bhola.
The Met Office said that the cyclone was initially moving towards the Odisha coast but changed its direction towards West Bengal and then towards Bangladesh on Friday morning.
'The cyclone is likely to hit Bangladesh Saturday evening,' said forecaster Abul Kalam Mallik.
He said that the cyclone was centred over west-central Bay and its adjoining east-central part with a radius of 400 kilometres until Friday afternoon.
The wind speed within the 74 kilometres of the storm was up to 120 kilometres per hour, he said.
'This is quite a big storm,' he noted.
The Met Office issued signal number seven for the Mongla and Payra ports, six for the Chattogram port and four for the Cox's Bazar port, also predicting that the storm could bring along heavy rains to Khulna, Barishal, Chattogram and Dhaka divisions till Monday.
Till Friday afternoon the cyclone was 620 kilometres southwest of the Chattogram port, 585 kilometres southwest of the Cox's Bazar port, 495 kilometres southwest of the Mongla port and 490 kilometres southwest of the Payra port.
Bulbul was likely to move towards north and north-easterly direction while gathering more strength until it made landfall, said the Met Office.
The river ports in the southern region have been advised to keep hoisted signal no two.
The Met Office also issued a heavy rainfall and landslide warning for Chattogram and Sylhet divisions.
The Met Office said that it was too early to make a prediction about tidal surges, which accompanied most of the cyclones that occurred between 1960 and 2017, reaching up to 33 feet.
The sea was very high near the eye of the storm, said the Met Office, asking fishing boats and trawlers not to venture into North Bay and stay in shelter until further notice.
The Indian Met Office said that the cyclone's pace of movement towards the West Bengal-Bangladesh coast increased significantly between Friday morning and afternoon, reaching 17 kilometres per hour at 5:00pm.
Bulbul is predicted to keep moving northwards till Saturday morning and then re-curve north-eastwards to make landfall between Sagar Islands in West Bengal and Khepupara in Patuakhali of Bangladesh as a severe cyclonic storm with maximum 120-kilometre wind speed in the early hours of Sunday, added the Indian Met Office forecast.
Authorities dealing with disaster management, relief operations and cyclone preparedness cancelled weekend and other leaves of its officials and employees till Sunday.
The New Age correspondent in Chattogram reported that the Chittagong Port Authority suspended all operations at outer anchorage until further notice.
Lighter Sramik Union vice-president Nobil Alam said that all lighters were grounded following suspension of lighterage on Friday morning.
The Chattogram City Corporation opened two emergency control rooms and was running campaigns asking people to stay updated on weather forecasts.
The New Age correspondent in Barishal reported that drizzling had continued since Friday afternoon and the sky was overcast ever since.
The cyclone Bulbul is reminiscent of the great Bhola cyclone that hit Bangladesh 49 years ago on November 12, 1970.
The Bhola cyclone is considered one of the worst ever storms in the world, packed with wind blowing up to 224 kilometres per hour and tidal surges leaping up to 33 feet.
The cyclone killed between 300,000 to 500,000 people depending on various estimates.
The Met Office recorded 33 historical cyclones in Bangladesh since 1960.
Nine of them occurred in November, the second highest number for a month after October.
The previous November storm dubbed Sidr was also one of the deadliest cyclones. It occurred on November 15, 2007.
The Sidr hit with the wind speed of 223 kilometres with tidal surges reaching up to 20 feet causing widespread destruction to life and livelihood along the vast Khulna-Barishal coast.
More than 3,000 people were killed by the Sidr.
The New Age correspondent in Satkhira reported that panic had gripped residences of the coastal district still reeling from losses caused by the Sidr, and Aila that hit in May, 2009.
Water Development Officials in the district estimated that about 250 kilometres of the coastal protection embankment remained vulnerable to disasters for lack of repairs and maintenance.
'Vast neighbourhoods, farmland and fisheries are at stake,' said Abdul Hakim Morol, a resident of Bichhot village, Ashashuni.
'We are praying heart and soul to God to spare us this time,' he said.
News Courtesy: www.newagebd.net