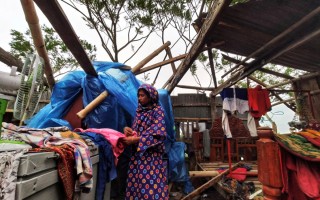 Severe cyclone Bulbul lashed coastal districts in Bangladesh, killing 12 people and damaging several thousand houses and standing crops and levelling trees before weakening into a deep depression at about 9:00am after making landfall Saturday evening.
Flooding rains and overflowing embankments washed away fisheries and gusty winds caused widespread power outages snapping distribution and transmission lines and damaging poles holding the lines in Khulna and Barishal divisions.
River ports remained closed until 6:00pm on Sunday due to rough weather though the cyclone turned into a deep depression and continued to weaken by shedding rain as it moved in a north-easterly direction.
Weather forecaster Abdul Mannan told a press conference on Sunday, 'The Sunderbans took the brunt of the storm that would have caused far greater damage had Sunderbans not protected us.'
The storm started crossing the Sunderbans delta as it made landfall between Sagar Island in West Bengal and Bangladesh coast at about 9:00pm on Saturday with maximum 125 km per hour wind speed, said the Met Office.
Related Coverage:
The storm already lost its strength significantly by the time it reached localities in Bangladesh after midnight with the maximum wind of less than 100km per hour, it said.
Met official Arif Hossain said that the wind speed rose to 93km per hour at Koyra in Khulna during the storm.
Khulna circle conservator of forests Moyeen Uddin Khan said that they needed more time to assess the damage caused to the Sunderbans.
Satkhira's Shyamnagar upazila nirbahi officer Kamruzzaman said that the worst part of the storm began at 3:30am.
'Heavy wind continued to lash the area with sickening thuds for five hours,' said Kamruzzaman.
'It felt as if it would not go away until levelling all buildings,' he said.
After the storm subsided, Kamruzzaman found out that 15,000 houses were destroyed and more than 50,000 trees and many electric poles were uprooted blocking roads.
The upazila administration immediately announced that it would not mind if people remove the trees from roads and took them home for own use.
Heavy rains and water overflowing coastal protection embankment washed away shrimp enclosures in the entire area.
'You have to look at it to believe it,' said Kamruzzaman.
Water Development Board monitoring cell in charge Abu Bakar told New Age that initially they had reports of embankment being damaged at 35 points in Khulna, Bagherhat, Satkhira, Pirojpur and Patuakhali districts.
The National Disaster Response Coordination Centre in its evening bulletin said that 14 coastal districts — Satkhira, Khulna, Bagherhat, Bhola, Jhalkati, Barishal, Barguna, Patuakhali, Feni, Pirojpur, Lakshmipur, Noakhali, Chandpur and Chattogram were affected by the cyclone.
The initial assessment of loss by the centre showed that Bagherhat was the worst hit district with 2,26,000 affected people in 78 unions.
The storm damaged 50,301 houses in the district partially or completely, 12km of the coastal protection embankment and crops on 16,200 hectares of land, said the assessment.
It said that 85 houses were damaged in Patuakhali.
According to the assessment, the worst affected districts are Satkhira, Khulna, Bagherhat, Bhola, Barguna and Patuakhali.
It said that 11 people were killed by falling trees in five districts and another one died of cardiac arrest at a cyclone shelter in Barguna.
The diseased were identified as Promila Mandal, 52, and Alamgir Hossain, 35, of Khulna, Hamid Kazi, 65, of Patuakhali; Samia, 15, and Hira Begum, 25, of Bagherhat, Ashalata Majumder, 65, of Barishal, Noni Mondal of Pirojpur, Halima Khatun, 65, of Barguna, Ali Box Chaial, 70, and Aleya Begum, 50, of Shariatpur and Hawladar, 70, and another unnamed of Gopalganj.
Cyclone Preparedness Programme director Ahmadul Haque told New Age that more than two million people evacuated from the path of the storm returned home by Sunday evening.
West Zone Power Distribution Company Limited managing director Shafique Uddin said that over 6 lakh people experienced power outage after 32 of the 73 feeders had gone out of operation because of the storm early Sunday.
He said that 20 feeders were restored by 2:00pm Sunday.
'The rest of the feeders could not be restored because of problems in the national grid in Barishal,' said Shafique.
Over 1 lakh people in Patuakhali, Barishal, Barguna, Pirojpur, Bhola, and Char Fashion were out of power till 7:00pm and it would take a while to get power supply restored.
New Age correspondent in Chattogram reported that operations at the Chittagong port resumed 10:00am Sunday.
Operations at the Shah Amanat International Airport in Chattogram were also resumed after a 15-hour disruption.
At least 13 flights were cancelled because of the cyclone, said airport manager Wing Commander Sarwar E Zaman.
Forecaster Ruhul Quddus said that the depression was centred above Noakhali until 6:00pm and continued to weaken as it moved north-easterly direction.
'It would be clear by Monday morning,' said Ruhul.
The Met Office recorded 158mm rain in 6 hours from 6:00am on Sunday at Barishal.
It predicted heavy rains under the influence of the depression until Monday morning.
The Met office also advised the maritime ports to lower the danger signal to number 3.
Bangladesh Inland Water Transport Authority chairman Commodore M Mahbub-ul Islam said that operations at river ports would resume Monday morning.
Ferry operations resumed at both the Paturia-Daulatdia and Shimulia-Kathalbari ghats Sunday morning, but were disrupted due to rough weather, he said.
News Courtesy: www.newagebd.net