Al Amin, Pia, Antara win triple gold in karate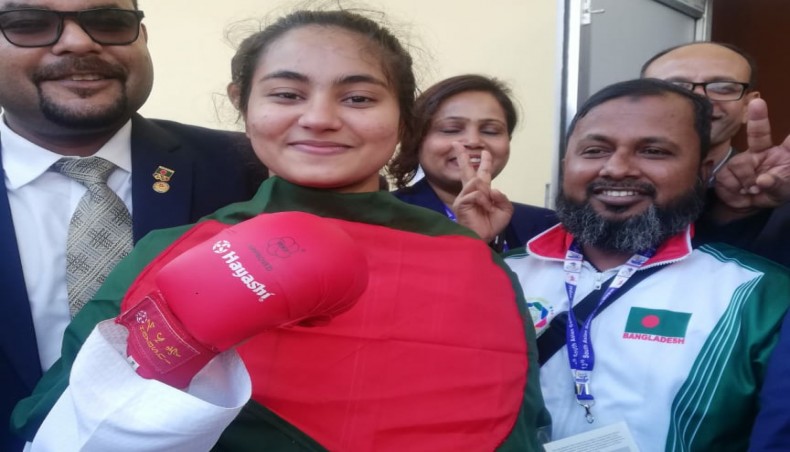 Karate players Mohammad Al Amin, Marjana Akter Pia and Humayra Akter Antara won three gold medals for Bangladesh from Karate on the third day of the 13th SA Games in Kathmandu on Tuesday.
Al Amin beat Pakistani competitor Jafar by 7-3 points in the final to secure his gold medal in men's kumi Under-60 weight category.
He beat Nepali competitor Rajib by 7-4 points in the semi-final.
'Since I could bring the second gold for Bangladesh, I am feeling really proud. It gives me immense pleasure that I could lift the flag of Bangladesh through my endeavour. I want to see Bangladesh on top of all countries,' Al Amin said in his immediate reaction.
Pia won the second gold of the day for Bangladesh in karate, winning the day's second gold in in women's kumi Under-55 weight category. She beat Kausar Sana of Pakistan by 4-3 points in the final.
Antara made it golden day for Bangladesh when she beat Anu Gurang of Nepal in the final of Kumi Under-61 category by 5-2 points. Antara earlier beat Gul Naz of Pakistan by 4-0 points in the semi-final
Karate players' success took Bangladesh's tally to three gold medals so far in the meet. Athlete Mahfuzur Rahman missed a gold medal narrowly despite creating a new national record in high jump at Dashrat Rangasala Stadium.
Mahfuzur jumped 2.16 metre, which is an improvement of his own national record of 2.15 metre, yet he had to remain satisfied with only a silver medal. With this Bangladesh have now three gold medals and as many silver medals in the meet.
Taekondow player Dipu Chakma won the first gold medal for Bangladesh in the Games earlier on Monday. Mustafa Kamal and Maunzera Borna clinched two silver medals from Karate on the same day.
A total of 462 athletes, 263 male and 199 female, are participating from Bangladesh in 25 of 26 disciplines in the Games.
News Courtesy: www.newagebd.net