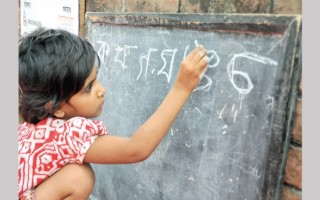 Kindergartens have been mushrooming across the country for years without monitoring of any government agency.
Violating the provisions of the private school registration rules 2012, most such schools are operating in residential buildings.
These KG schools run even without registration from the Directorate of Primary Education, the Directorate of Secondary and Higher Education, any education board or other agencies.
Thanks to corrupt district and upazila DPE and DSHE education officials, thousands of students from hundreds of such schools get government textbooks.
They also get the opportunities to sit for Primary Education Completion, Junior School Certificate, Secondary School Certificate and Higher Secondary School examinations, principals of many kindergarten schools admitted.
The agencies responsible do not even monitor the administrative, academic and classroom activities of such schools while parents complain that the kindergartens force them to spend large amounts of money on this education.
They have to pay huge amount of session fees annually, purchase extra books beside those approved by the National Curriculum and Textbook Board and buy all the prescribed stationaries and uniforms form the kindergartens at rates higher than market price.
'I got my son enrolled into a kindergarten school as teachers of the school came to my resident and convinced me saying that they would provide quality education,' Nusrat Jahan, a resident of Basabo in Dhaka, told New Age.
'After a few months, I have realised that the teachers are not qualified and give wrong lessons,' she said, adding that she was forced to purchase many books they never taught in the classroom.
'I had also to buy stationaries and the uniform from the kindergarten paying more than the market price,' she said.
She went on that the kindergartens in association with private publishers and book shops were making money by cheating on the parents.
Another parent preferring anonymity said that she took a fake transfer certificate from a kindergarten stating that her daughter, a fourth grader at another school, passed Class III from that kindergarten in order to get her admitted to Viqarunnisa Noon School in Class IV.
BRAC university professor emeritus Manzoor Ahmed observed that such kindergartens were nothing but business enterprises.
'The government is allowing such unregistered schools to operate as it cannot provide sufficient opportunities required for imparting quality education,' he said.
Government officials are too extracting undue benefits from such schools, he said demanding immediate regulations for such educational entities.
Kindergartens started as a unique type of primary school in 1983 during the rule of military dictator HM Ershad, a Bangladesh Kindergarten School Association faction secretary-general Lion Tajul Islam said.
He said that those Kindergartens followed the government curriculum and textbooks.
'The KG schools soon earned popularity for their smart look when the parents found the government schools dilapidated,' he said.
At present, Tajul claimed, over 70,000 KG schools are operating across the country, many of which enrol students up to the HSC level.
He said that 600 schools had registration with the Directorate of Primary Education after the private primary (Bangla and English medium) school registration rules 2011 were put into effect.
None of the KG schools taking Class VI-XII students are registered but collect government textbooks from nearby registered non-government and government schools by greasing the palms of managing committees of those schools and DSHE officials, he admitted.
'Students of unregistered KG schools sit for JSC, SSC and HSC exams bribing education boards officials and managing committees of registered schools,' he said.
He added that the education boards did not give them registration as they had no permanent campuses as required by the boards to allow a school to operate.
'Registered schools charge Tk 1,000 extra for registration of each such student for public exams showing them as their students,' he said, adding that they also charged extra money to collect NCTB textbooks for such students.
'We collect the money for those heads from the students,' he said.
DSHE's Education Management Information Service does not keep any record of kindergarten schools.
DPE's Annual Primary School Census reports showed that the number of country's KG schools increased by an average of 2,000 in each of the past four years.
According to APSC 2015, the number of kindergartens was 18,318 what became 20,601 in APSC 2016, 23,544 in APSC 2017 and 24,363 in APSC 2018.
'The DPE data, as dished out by its upazila and district officers, are not the real numbers as many kindergartens operate up to Class IV when their students sit for the PEC exam as registered students of other schools,' said the KG school association's another faction secretary-general Mizanur Rahman.
Both Tajul and Mizan said that the kindergartens did not depend on the government for procuring textbooks for the students of Play Group, KG 1 and KG 2 grades but collect those from private publishers.
'Government textbooks for grades 1, 2, 3 and 4 can be collected from various sources by greasing the palms of government officials and governing bodies of registered schools, Mizan said.
The leaders also accused the DPE of not issuing registration to KG schools for months even after applying for it while the rules provided for completing the procedure within 60 days from the date of application.
'They do not hold the evaluation meeting regularly and so hundreds of applications have been pending with the DPE,' Tajul said.
The association leaders also demanded an easier registration process for primary and secondary levels.
Dhaka education board school inspector Abul Mansur Bhuiyan said that they were aware of the practice that students of unregistered KG schools appeared in the public examinations as students of registered schools.
'But we do not take action as the matter is under the jurisdiction of the district administration and directorates,' he offered.
'We take actions only against KG schools that follow foreign curriculums and syllabuses, as stipulated by the private (English medium) school registration rules,' he added.
Dhaka's additional district administrator (education) Farzana Zaman said that she was not aware of any rule requiring the district administration to monitor the operations of schools in residential areas.
DPE director general AFM Manzur Quadir said that his agency's approach was liberal in case of distributing textbooks and allowing candidates to sit for the PEC examination for enrolling more students and controlling dropouts.
'Monitoring of quality in the KG schools cannot be ensured with limited manpower,' he said.
DHSE director general Syed M Golam Faruk claimed that they closely monitored activities of all institutions enrolling students from grade V1 to XII, including the KG schools.
He could not, however, say the name of any KG school against which the directorate took any action.
News Courtesy: www.newagebd.net