Bangladesh archers complete perfect 10 in SA Games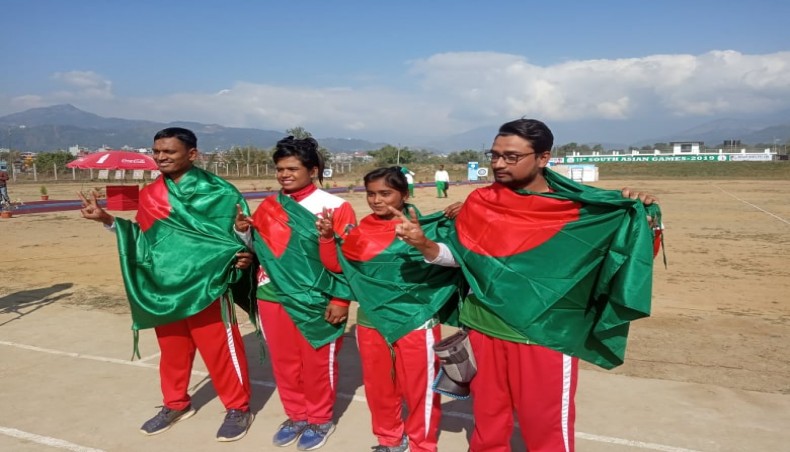 Bangladeshi archers achieved a remarkable feat in the 13th SA Games when they won four more gold to make it 10 out of 10 gold medals in the discipline in Pokhara, Nepal on Monday.
Suma Biswash and Sohel Rana both won their individual compound events to clinch gold.
Suma beat Sri Lankan opponent by 142-134 points while Sohel beat his Bhutanese counterpart by 137-136 points.
Ety Khatun, who along with Roman Shana led the gold rush for Bangladesh on Sunday, won gold in the recurve individual by defeating her Bhutanese opponent by 7-3 set points.
Shana went on to win his individual event following Ety's success to complete a historic clean sweep for Bangladesh by winning both individual and team events.
Shana completed the clean sweep by winning the men's individual recurve final beating his Bhutanese opponent by 7-1 points.
Earlier on Sunday, Roman Shana, Hakim Ahmed Rubel and Tamil Islam beat Sri Lanka's Dalpatadu Ravien Kavisha, Mahamadaachchi Sajeev and Sadun Kumara by 5-3 sets in the recurve men's team final.
In the women's team event, Ety Khatun, Monira Akter and Beauty Roy claimed gold medal with a 6-0 win over Sri Lanka.
Shana and Ity Khatun won the third gold medal of the day in the recurve mixed team event, beating Bhutan by 6-2 set points.
In the men's compound team event, Asikuzzaman, Ashim Das and Sohel Rana won fourth gold by beating Bhutan in the final.
Shusmita Bonik, Shoma Biswas and Shamoli Roy beat Sri Lanka in the final by 228-215 points in the women's compound team event to bring the fifth gold medal.
Shusmita Bonik and Sohel Rana made it six out of six when they beat Nepal by 149-140 points to win in the compound mixed team event.
With the success of archery, Bangladesh have now 18 gold medals in the Games, their best ever haul equalling the record of 2018 when they won the same number of gold medals at home.
News Courtesy: www.newagebd.net