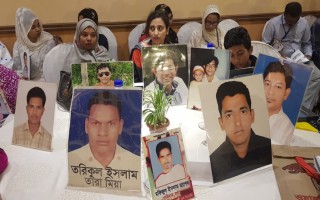 Bangladesh Nationalist Party on Wednesday alleged about 35 lakh people were made accused in about 1.05 lakh political cases by the ruling Awami League government only for having dissenting opinions and different political views in the past 10 years.
The party secretary general Mirza Fakhrul Islam Alamgir said Bangladesh never witnessed such a 'horrible' human rights situation in the past.
He was speaking as the chair in a roundtable on 'absence of democracy and systematic human rights violation by state apparatus' at a hotel in the capital marking the International Human Rights Day.
He said 1,526 opposition leaders and activists were killed by the government and the Awami League between 2009 and 2019 while 781 people, including 423 BNP leaders and activists, faced enforced disappearance.
Besides the BNP senior leaders, family members of a number of BNP leaders and activists who faced enforced disappearance, diplomats of 15 countries including the US, United Kingdom, India, Pakistan, Russia and the European Union attended the roundtable organised by BNP, organisers said.
Fakhrul said children were crying for their disappeared fathers and the mothers for their missing sons in a country which would celebrate the golden jubilee of independence next year.
'An uneasy situation is prevailing across the country and people are denied their rights,' he said.
The BNP leader alleged the government was doing all the misdeeds to remain in power as they 'usurped' power through robbing votes.
Quoting Nobel laureate economist Amartya Sen's speech that development would not be sustainable without democracy, Fakhrul said, 'There is no democracy in Bangladesh now and the people, too, have no rights.'
He said the government was making efforts to fool people with a myth of development and false information.
The BNP leader said the country's people fought in the war of independence to establish people's political, social and financial rights and called upon people to get united to 'restore' their rights and democracy by ousting the incumbent government.
Pakistan's acting High Commissioner Shah Faisal Kakar addressed the roundtable highlighting his government's steps in upholding human rights and on the human rights situation in Kashmir after the Indian government revoked the special status of Jammu and Kashmir.
Fakhrul interrupted him twice requesting to shorten his speech as Faisal was making long statements.
BNP standing committee members Khandaker Mosharraf Hossain, Amir Khosru Mahmud Chowdhury, Gonoshasthya Kendra founder Zafrullah Chowdhury, educationist Mahbub Ullah, among others, also spoke.
At the outset of the discussion, the BNP secretary general launched a book titled 'Absence of Democracy and Systematic Human Rights Violation by State Apparatus', a book on human rights violation in the country between 2009 and October 2019.
News Courtesy: www.newagebd.net