Bangladeshi TV programs rarely invite Taiwanese scholars to share their experience in combating pneumonia in Wuhan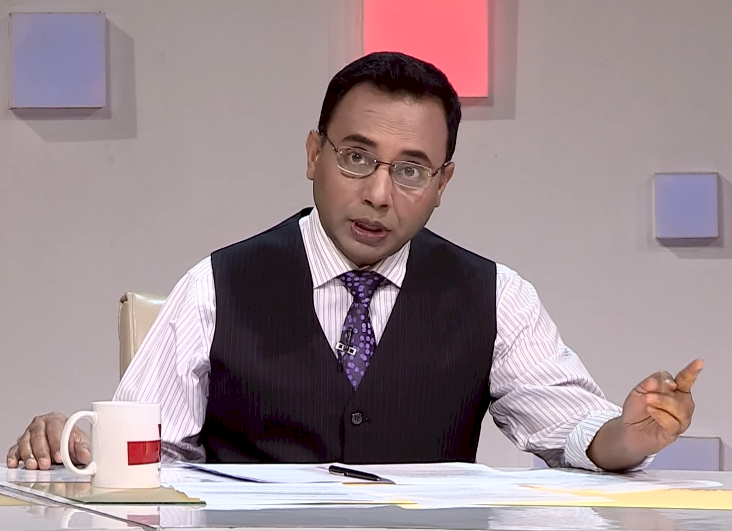 Taiwan 's outstanding achievements in the control of the 2019 coronavirus disease (COVID-19) epidemic commonly known as Wuhan pneumonia have been recognized by many countries. Even Bangladesh, which has a close relationship with China, is well-known for TV talk shows. Taiwan's epidemic prevention experience and current status.
Hong Ruimin, a postdoctoral researcher at the National Defense Security Research Institute, told WebMD that he recently received a call from Zillur Radman, the host of the well-known Bangladesh talk show Tritiyo Matra, inviting him to participate in the 2nd program to discuss the Wuhan pneumonia issue and share Taiwan 's Experience and current situation.
Hong Ruimin pointed out that he introduced Taiwan 's past experience of SARS (Severe Acute Respiratory Syndrome) in the program. When the Wuhan pneumonia epidemic was reported in China last December, he was quickly alert and responded quickly and immediately screened flights from Wuhan And take a number of anti-epidemic measures that are more advanced than many countries, and call on the public to wash their hands frequently and do good personal hygiene, so that the public has early awareness of epidemic prevention.
In the program, Hong Ruimin said that the people of Taiwan do not usually refuse to wear masks, which is quite different from the habits of the West. A variety of reasons may cause Taiwan to be closer to China but with fewer confirmed cases of pneumonia in Wuhan.
When asked by the host about the economic impact of Wuhan 's pneumonia epidemic, Hong Ruimin said that Wuhan 's pneumonia affected Taiwan 's imports and exports, coupled with insufficient raw materials and lower orders, including tourism, manufacturing, petrochemicals, and information industries. All have been affected, but the government has taken some measures to assist enterprises to cope with the impact, including assisting enterprises to transform, counseling the development of new technologies or remote technologies.
He pointed out that due to Wuhan's pneumonia, people's e-commerce in Taiwan has reduced the number of people shopping, but has grown more.
In addition, when asked whether Taiwan 's international and geopolitical status changed due to the epidemic, Hong Ruimin said that because of China 's hidden Wuhan pneumonia outbreak and suppressing Taiwan, it lied that Taiwan could obtain World Health Organization (WHO) real-time information from China and Relevant assistance; For the fact that China still does not forget to operate politics in such an emergency, it makes Taiwanese even more resentful of the CCP regime.
Hong Ruimin said that due to Taiwan 's considerable achievements in controlling the pneumonia epidemic in Wuhan, many countries have taken the initiative to support Taiwan 's participation in the WHO and hope that Taiwan will share its experience; Taiwan has also signed a joint epidemic prevention statement with the United States to share information and exchange materials.
He pointed out that President Tsai Ing-wen also announced that Taiwan will donate materials such as masks to friendly countries, which has received international praise. If there is demand in Bangladesh, I believe Taiwan will also think and provide materials and technical assistance to Bangladesh.
When Hong Ruimin went to Dhaka, the capital of Bangladesh, last November to attend the first Dhaka Global Dialogue organized by the Observer Research Foundation (ORF) in India, he met the moderators Radman and Radman. When I recently decided to discuss the Wuhan pneumonia epidemic on the show, I invited Hong Ruimin to share Taiwan's experience.
Tritiyo Matra talk show is a long-established talk show on Channel I in Channel 2003 that discusses international and political issues. When Hong Ruimin was invited to participate, it was already broadcast on episode 6087 and has a large audience in Bangladesh. Group, fans of bare Facebook reach 200,000 people, the influence is quite high.
News Courtesy: https://www.rti.org.tw/news/view/id/2058552?fbclid=IwAR2WaY8ItyfbN-eEDYKbZYfZ9lK0M9lfqiH7qo6ItJMiw4O_rrqnbkUpJ2c