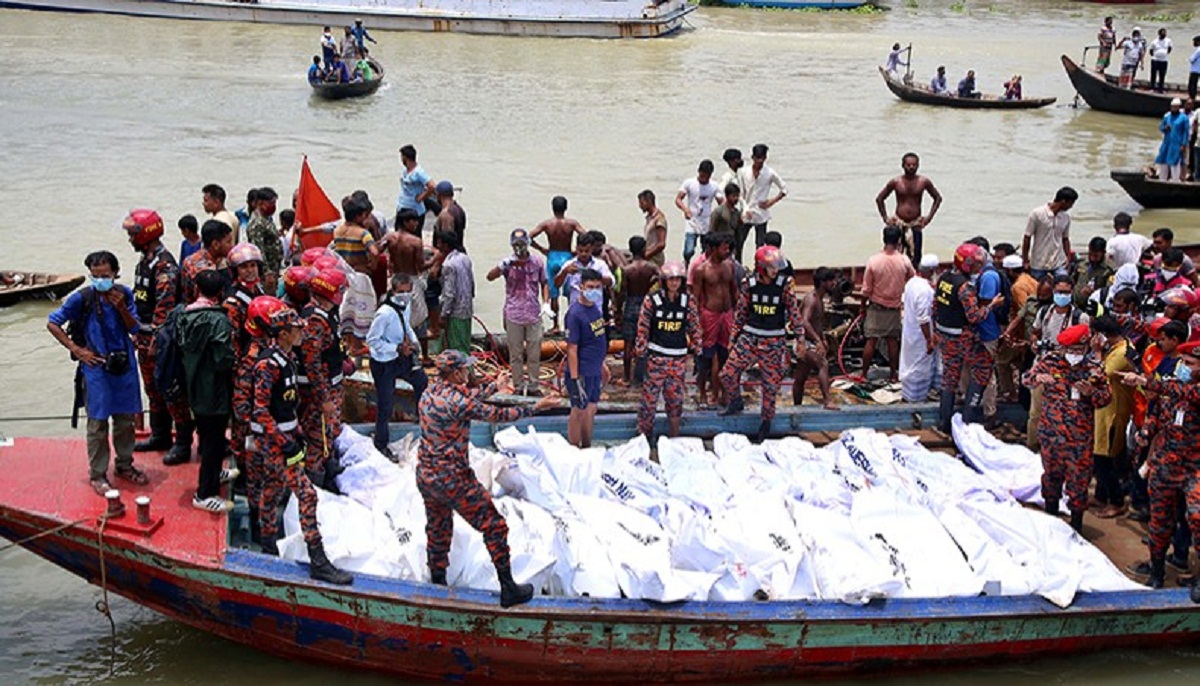 Most of the fatal inland waterways accidents in the country are mainly caused by unskilled masters in absence of proper training, observed river safety experts.
The government officials admitted that training for masters is a continuous process while leaders of the launch owners claimed that on-duty experience was enough instead of training.
Leaders of waterways workers alleged that due to non-cooperation of the owners they could not get enough training while on jobs as masters needed leave of absence from work to pursue training courses.
Against this backdrop, the authorities recently backtracked from an earlier proposal for increasing penalty for the loss of life on any ship in the draft Inland Shipping Act 2019.
Department of Shipping director general Commodore Syed Ariful Islam said that they changed a previous draft on the demand of the 'stakeholders', meaning owners and workers.
Earlier on Monday, a vessel, Morning Bird, on its way to Dhaka from Munshiganj capsized within seconds in the river with more than 50 passengers on board in Farashganj area when another large vessel, Mayur-2, hit it.
Officials of Bangladesh Inland Water Transport Authority said that during the accident Mayur-2 moved in reverse gear and hit Morning Bird, which was right behind it.
The masters of Mayur-2 and Morning Bird are still absconding, officials said.
Statistics of the Department of Shipping show that between 2005 and 2017 a total of 264 inland waterway accidents took place, with 1,430 people killed, 135 more injured and 265 missing.
A study of Accident Research Institute under Bangladesh University of Engineering and Technology shows that among these accidents 58 per cent were caused by collisions.
Commodore Syed Ariful Islam, however, said that 42.7 per cent of all accidents were caused by collisions.
ARI lecturer Md Imran Uddin told New Age on Wednesday that till 2004 major reason behind fatal waterway accidents was inclement weather, which later changed to collision since 2005.
The main reason behind these collisions was unskilled masters who lacked proper training, he said.
Md Imran Uddin said that as per their observation most of the masters did not get yearly and periodic safety drilling training to increase their basic skills in dealing with difficult situations.
'Instead of usual paper-based examination for certification, simulation-based practical test would be affective in testing the skills of the masters,' he observed.
Currently to apply for three available categories of masters' positions — third, second and first class — applicants have to complete one month or one year in-service preparatory course certificates from any of the two Deck and Engine Personnel Training Centres situated in Narayanganj and Barishal.
When workers choose to go for one-month training course, they, without exception, lose their jobs, Bangladesh Shipping Workers' Federation general secretary Chowdhury Ashiqul Islam alleged.
Bangladesh Inland Water Passenger Carrier's' Association senior vice-president Badiuzzaman Badal said that most of the waterways accidents happened due to negligence of the masters.
He, however, also argued that he did not think that masters need more training during job as they were already in jobs and are experienced enough.
As per the existing Inland Shipping Ordinance 1976, section 70 (2), if a shipping casualty involving inland ship results in the loss of life due to the fault of the ship or because of the incompetence of the owner, master or any official, the person shall be punishable with imprisonment for a term which may extend to five years, or with fine which may extend to Tk 1 lakh or both.
In 2016, the Department of Shipping took an initiative to prepare a draft for making the law up-to-date and in 2018 it prepared a draft which proposed a maximum of 10 years of imprisonment and a maximum fine of Tk 5 lakh or both for the same offence.
Recently the draft was changed and renamed as the Inland Shipping Act 2019 which proposed maximum imprisonment for five years and maximum fine of Tk 3 lakh or both as highest punishment for endangering life and polluting environment or causing risks.
More than one officials of the department told New Age that the proposal for stricter punishment changed following demand of the owners and the workers.
'Do you think accidents will reduce if the imprisonment fixed at 100 years?' Bangladesh Shipping Workers' Federation leader Chowdhury Ashiqul Islam asked.
Department of Shipping director general Commodore Syed Ariful Islam told New Age on Wednesday that the existing examination system for providing certificates to the masters was not 'enough'.
In Bangladesh many experienced masters went abroad for taking up jobs while most of the masters on inland waterways trained by seniors lacked technical knowledge.
'Training for masters is a continuous process there is no doubt but most masters of our country should be awarded for their skills to ply vessels in congested areas like Sadarghat,' he said.
He explained that the collisions on waterways mostly occurred in the harbour areas.
The director general blamed the negligence of duty by relevant people and congestion in the harbours for accidents.
DoS statistics show that at present there are around 25,000 registered vessels and around 17,000 licence-holder masters in the inland waterways.
News Courtesy: www.newagebd.net