Bikers block road demanding resumption of ridesharing services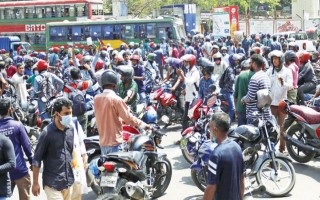 Agitated motorcycle riders under the ridesharing services blocked roads in Shymoli area in Dhaka creating traffic congestions on Wednesday morning, protesting at the Bangladesh government decision of imposing a ban on carrying passengers by motorcycles.
The bikers urged the government to withdraw the ban immediately.
Earlier, on March 29, the government issued a set of 18 directives imposing restrictions on all types of public gatherings initially for the next two weeks.
It also said that the public transports would have to run at 50 per cent capacity following the other health rules.
Following the directives Bangladesh Road Transport Authority on March 31 issued a circular imposing a ban on carrying passengers by motorcycles under the ridesharing services for two weeks from the day.
Protesting at the ban, the motorcycle riders blocked roads earlier on April 1 by placing their motorcycles across roads at many places in the capital.
On Wednesday morning they blocked the road in Shymoli area with the same demand.
Protesters said that the government resumed the services of buses in the capital while a weeklong restriction was ongoing.
There was no reason of imposing ban on ridesharing services only, they said.
The blockade triggered traffic congestions in the area.
Dhaka Ride Sharing Drivers' Union general secretary Md Belal Ahmed told New Age that the bikers were protesting spontaneously with the demand of resuming ridesharing services.
Soon they would submit a memorandum to the road transport and bridges ministry in this regard, he added.
However, amid the ongoing countrywide restrictions bikers were seen carrying passengers on fare at different places in the capital.
Earlier officials of the BRTA told New Age that they would not withdraw the ban on motorcycles to carry passengers as it was not possible at all to maintain social distancing during rides.
News Courtesy:
https://www.newagebd.net/article/134681/bikers-block-road-demanding-resumption-of-ridesharing-services