Ongoing restrictions to continue on April 12,13: Obaidul Quader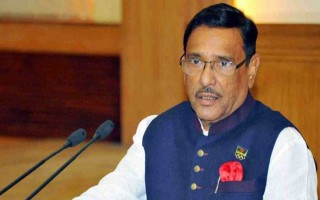 The ruling Awami League general Secretary Obaidul Quader on Sunday said that the ongoing restrictions would continue on April 12 and April 13.
Then, from April 14, 'more strict and complete lockdown' would be imposed, he said.
Obaidul Quader, also road transport and bridges minister, made the announcement in a virtual briefing from his house.
Earlier, the Cabinet Division on April 4 issued an 11-point instruction restricting public movement outside home between 6:00pm and 6:00am unless an emergency, closing all markets and shopping malls, banning operations of all modes of public transport including domestic flights, limiting bank hours and selling time at kitchen markets and shops of essentials between April 5 and April 11.
Obaidul Quader and state minister for public administration Farhad Hossain on Friday again said that the government was likely to impose a weeklong 'complete lockdown' from April 14 to contain the recent surge in COVID-19 cases.
During the complete lockdown for a week, Farhad said that all offices and garment factories, except for those providing emergency services, and operations of all modes of transport would remain shut.
The National Technical Advisory Committee on COVID-19 on the same day suggested complete lockdown for at least two weeks especially in the city corporation and municipality areas to contain the second surge of infections.
News Courtesy:
https://www.newagebd.net/article/135069/ongoing-restrictions-to-continue-on-april-1213-obaidul-quader