Dhaka sees fresh spike in Covid cases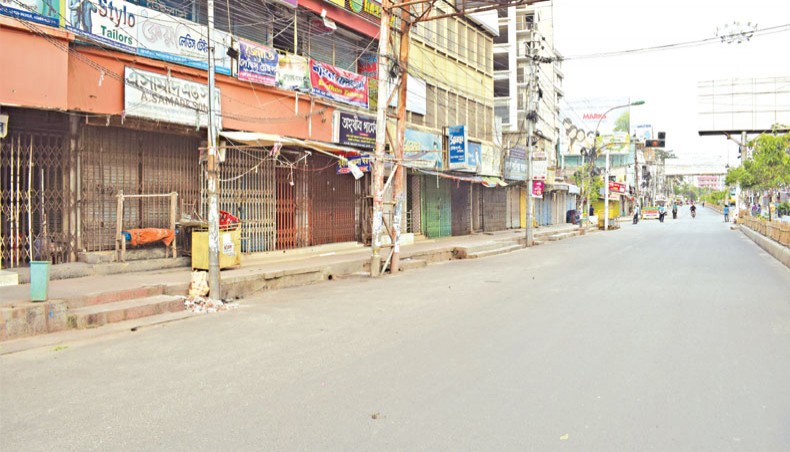 Dhaka and some of its adjacent districts are seeing significant increases in the daily Covid test positivity rate while bordering divisions of Khulna, Rajshahi and Rangpur struggled to contain a rapid spread of Covid-19 despite controlling public movement and other activities.
Continued high Covid infections along border with India prompted the government to suspend passenger travel by train between Dhaka and Rajshahi from early hours today after authorities have put Rajshahi city under lockdown for a week since Friday afternoon.
Besides, a fresh weeklong lockdown has been announced for Khulna district from tomorrow while Narail will enforce a localised lockdown in two municipality wards and three unions of Narail sadar upazila after the Covid case rate doubled overnight to about 50 per cent.
Many other areas in Rajshahi and Khulna divisions, including Natore, Naogaon, Satkhira, Chuadanga, Kushtia and Jashore, have curbed activities but still reported the test positivity rate of about 50 per cent while new areas with 70 per cent positivity rate emerged.
The overall death toll after Covid-19 emerged in Bangladesh crossed the milestone of 13,000 on Friday with 43 deaths reported in the 24-hour period till 8:00am Friday.
The national positivity rate stood at 13.24 per cent after 18,535 samples were tested countrywide during the period as the overall spread of Covid-19 has expanded with government epidemiologists warning that the surge of new cases was mostly caused by the delta variant of coronavirus.
'Covid infection is apparently increasing in Dhaka district and we are planning to raise the number of tests to assess the situation,' Dhaka divisional health director Belal Hossain told New Age.
The Directorate General of Health Services's Covid-19 dashboard, which is updated every 24 hours, showed that the positivity rate in Dhaka district jumped to 12 per cent on Thursday after a 5 per cent increase compared to Wednesday.
This is the first time after May 6 that the positivity rate in the district crossed the 10 per cent mark.
The national health agency's daily update on Friday showed that the Covid positivity rate in Tangail, Gopalganj, Madaripur and Rajbari districts was about 20 per cent.
'Some of these districts have been witnessing a relatively high rate for some time now and we need to carry out more tests to understand the real situation,' said Belal Hossain.
The highest divisional positivity rate was reported from Khulna with about 35 per cent of its 1,729 samples found infected with the virus.
'The Covid situation is really bad in Khulna and Satkhira districts,' said Khulna divisional commissioner Ismiel Hossain, confirming the fresh lockdown imposed in Khulna district from June 13.
Narail deputy commissioner Mohammad Habibur Rahman said that two wards of Narail municipality and three villages of Narail Sadar upazila would be put under lockdown for a week from today.
Division-wise, the positivity rate was 26 per cent in Rangpur, about 20 per cent in Sylhet, Rajshahi and Chattogram and about 10 per cent in Dhaka, Mymensingh and Barishal, said the DGHS daily update.
Some 59 per cent of the 87 samples from Narail district tested in the 24 hours by the DGHS were found positive for Covid-19 while Satkhira reported 53 per cent test positivity, Bagerhat 43 per cent and Khulna, Chuadanga and Jashore above 30 per cent.
All the 12 samples from Meherpur district tested in the 24 hours were found infected with Covid-19, said the DGHS.
Perojpur, a southern district in Barishal division, reported 75 per cent test positivity rate in the 24 hours after examining only eight samples.
While most of its samples were tested Covid positive over the last four days the number of daily tests remained around 10 in Perojpur.
'Perojpur shares border with Khulna and we need to step up screening in the district to understand its situation better,' said Barishal divisional health director Basudeb Kumar Das.
The test positivity rate was 54 per cent in Panchagarh, a bordering district in Rangpur division.
The civil surgeon office of Natore, a district in Rajshahi division, confirmed to our Rajshahi University correspondent the detection of 82 new cases in the 24 hours with over 53 per cent positivity rate.
Of the newly-infected cases in Natore, 59 are residents of Natore town indicating a massive spread of Covid-19 in the town.
UNB reported 62 per cent positivity rate in Natore sadar and municipal areas.
Rajshahi Medical College Hospital, the centre point of Covid treatment in Rajshahi division, faced a steady arrival of patients with 43 new admissions in the 24 hours until 6:00 am Friday, reported the RU Correspondent.
A total of 297 people with Covid-19 and its symptoms are under treatment at the RMCH against the hospital capacity to treat 271 Covid patients as 682 new cases were confirmed in Rajshahi division, about a fourth of the country's overall confirmed new infections.
UNB further reported that the rapidly spreading infection turned the dedicated Khulna Covid hospital overcrowded with cases forcing many of them to stay on the hospital floor while physicians and other staffs were exhausted serving them.
According to the DGHS daily update, the overall number of Covid cases since the viral diseases emerged in the country has reached 8,22,849 with 2,454 new infections reported in the 24 hours until Friday morning.
Of the infected, 76,1916 have recovered, said the DGHS.
Thirty of the fresh dead were men and the rest women.
Government hospitals recorded 36 new deaths and private hospitals six while one death occurred at home.
Division-wise, Rajshahi recorded the highest 11 deaths, followed by Chattogram with 10 deaths, Dhaka with eight deaths, Khulna with seven deaths, Rangpur with four deaths, Barishal with two deaths and Mymensingh with one death.
Age-wise, 24 of the deceased were above 60 years while 11 were between 51 years and 60 years, four between 41 years and 50 years, two between 31 years and 40 years and another two between 21 years and 30 years, said the DGHS update.
News courtesy- http://www.newagebd.net/article/140461/dhaka-sees-fresh-spike-in-covid-cases