Hefazat leader arrested in Chattogram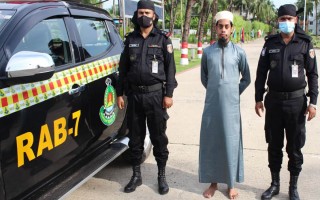 The Rapid Action Battalion on Wednesday arrested a Hefazat-e-Islam Bangladesh leader Asadullah at Hathazari in Chattogram in a case over Hefazat's violence in Hathazari area in late March.
The arrested Hefazat leader, Asadullah of Munsir Bari of Hathazari area in Chattogram, is a former organising secretary of Hathazari municipality unit of the organisation.
Md Rakibul Hasan, assistant director (media) of RAB-7, told New Age that Asadullah was arrested at Hathazari at about 9:45am in a case filed over violence by Hefazat activists in late March.
'Asadullah is named in at least three cases. He was handed over to Hathazari police in the evening,' he said.
A total of 10 cases were filed with Hathazari police station naming over 100 Hefazat leaders including Hefazat chief Mohammad Jonaid Babunagari and BNP activists while over 6,000 unidentified people were also made accused in the cases.
Four including three Madrassah students were killed during the clash with police on March 26 at Hathazari in Chattogram while Hefazat had been protesting across the country against visit of Narendra Modi, the prime minister of India, to Bangladesh to join the concluding ceremony of a programme marking the golden jubilee of Bangladesh's independence and birth centenary of the country's founding president Sheikh Mujibur Rahman.
News Courtesy:
https://www.newagebd.net/article/144281/hefazat-leader-arrested-in-chattogram