Eid-ul-Azha celebrated in Bangladesh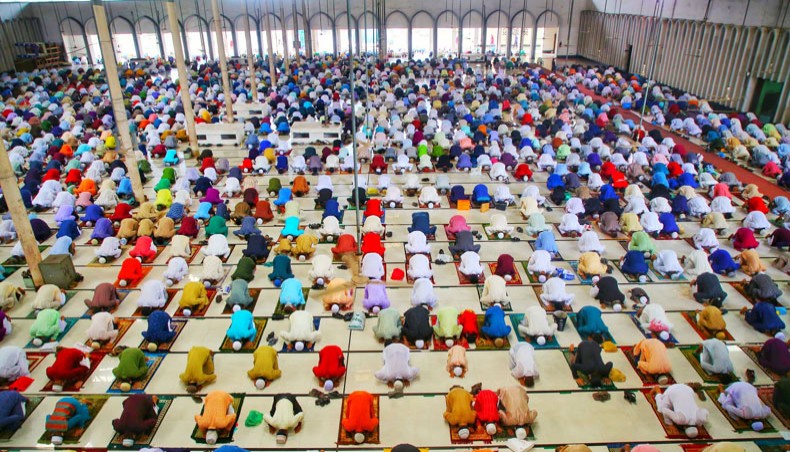 The Muslims in Bangladesh celebrated Eid-ul-Azha, one of the biggest religious festivals of the community, on Wednesday with due solemnity, sense of sacrifice and religious fervour amid the Covid pandemic for the second consecutive year.
Millions of devotees across Bangladesh offered Eid prayers at mosques and eidgahs in the morning seeking divine blessings, peace and progress for the country as well as getting rid of Covid pandemic.
The main Eid congregation in Dhaka was held at Baitul Mukarram National Mosque at about 7:00am following four more congregations till 11:00am.
The main Eid congregation in Chattogram was held at Zamiatul Falah Masque, in Khulna it was held at Town Jam'e Mosque and in Rajshahi the main congregation was held at Shah Makhdum (RH) Eidgah Moidan.
Bangladesh Sangbad Sangstha reported that president M Abdul Hamid offered the Eid prayers along with his family and some officials at the Hallway of Bangabhaban in the capital.
They offered Eid prayers maintaining health rules, including wearing mask and maintaining social distancing, as the traditional Eid prayers in the National Eidgah Maidan was cancelled due to Covid-19.
The celebration was held when Bangladesh witnessed 173 more Covid deaths and an additional 7,614 cases in 24 hours ending Wednesday morning.
With the latest statistics, the total death toll hits 18,498 and the cases rise to 11,36,503.
The health safety guidelines like wearing face mask and maintaining social distance while standing in the same line to offer prayers, were been flouted at many places.
After offering prayers at the first congregation at the National Mosque, Dhaka South city mayor Sheikh Fazle Noor Taposh told reporters that wastes of sacrificed animals would be removed and cleaned within 24-hour and sought co-operations from the city dwellers in this regard.
Dhaka North City mayor Atiqul Islam while visiting several places of sacrificing animals at Vatara Wednesday afternoon said that all wastes of sacrificial animals would be removed from his city by 'tonight'.
After offering Eid prayers, Muslims performed the ritual of sacrificing animals.
They distributed the meat of sacrificed animals among their relatives, friends, and the poor until evening.
Just a day before the Eid, on Tuesday, a good number of people had left the capital city of Dhaka to celebrate the festival with their family and friends in village homes and many of them were returning to Dhaka as the government on July 13 relaxed restrictions on public movement and businesses from July 15 to July 22.
This caused a huge tailback on the highways since the early hours of Tuesday triggering immense sufferings to the passengers on their ways during the last hour rush for Eid travels amid gross violation of health rules.
News Courtesy:
https://www.newagebd.net/article/144282/eid-ul-azha-celebrated-in-bangladesh