Hospital outdoors crowded with flu, pneumonia patients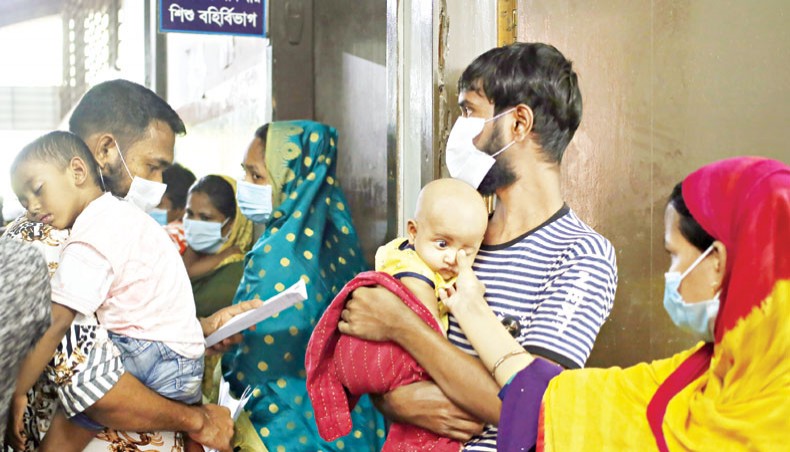 Outpatient departments of public hospitals and private chambers physicians in Dhaka and other places are being crowded with patients, mainly children suffering from flu and pneumonia.
Physicians said that the change in weather causes flu as it severely attacked children due to lower immunity than adults.
They said that the flu is contagious and spreads from one family member to another and the patient develops the symptoms of general cold and fever along with pneumonia, asthma, bronchiolitis and even diarrhoea.
Ayesha Siddiqa, a seven-year-old girl, was seen standing along with her mother at the outpatient department at Sir Salimullah Medical College Mitford Hospital on Thursday as she has been suffering from fever, cough, and headache and body pain for the past three days.
'I developed fever and cold for three days. I could not eat food. My body aches and there is a severe headache which has been increased since last night,' Ayesha, a resident at Keraniganj.
Like Ayesha, a large number of children along with their parents were seen waiting in a queue to see the doctor at the outpatient department at the hospital.
SSMC Mitford Hospital resident physician Mohammad Mostafizur Rahman told New Age on Thursday that a huge number of patients, mostly children, were pouring in daily with fever and cough. Adults have greater immunity than children.'
'If a person arrives at the hospital with fever and cold, we are prescribing them dengue and Covid-19 tests even though 70 per cent of the people in our country have developed antibodies against the Delta variant. If they tested negative, we are providing them with other treatments. Many children have developed pneumonia, bronchiolitis, asthma and diarrhoea due to the flu,' he added.
At Shaheed Suhrawardy Medical College Hospital on Thursday, a long queue of parents accompanying children was seen in front of the outpatient department.
Most of the parents said that they came to the hospital as their children had been suffering from fever and cough for the past few days.
Ratna Akter was standing at the hospital's outpatient department along with her twin children.
'Both of them have been suffering from fever and cold for the past seven days. They cannot eat food properly. I have been waiting in the queue for more than two hours,' she said.
The number of patients suffering from common fever and cold is increasing at a time when many people are still getting infected with dengue though the Covid infection rate has plunged below 5 per cent.
SSMCH director Md Khalilur Rahman told New Age that children have fewer antibodies than adults and the flu easily spreads from one person to another.
'It is a viral flu. If someone is infected in a house, the rest of the members will also be infected. Additionally, children were developing asthma, pneumonia after contracting the flu,' he added.
A large number of people were suffering from flu at a time when the number of Covid patients was in decline.
Covid claimed the lives of 31 more people and infected 1,233 others in Bangladesh in 24 hours ending on Friday morning. The daily test positivity rate was 4.54 per cent, according to the Directorate General of Health Services.
Epidemiologist AM Zakir Hussain said that though Covid-19 was in decline, people could contract other strains of coronavirus as they commonly get infected with human coronaviruses 229E, NL63, OC43, and HKU1 across the globe.
'These four strains of coronavirus are being tested in many countries in the world but not in Bangladesh as the country does not have the facilities to test the other four strains of coronavirus. So they should also test people suffering from general cold and fever for Covid-19,' he added.
Public health expert Rashid-e-Mahbub told New Age that the change in weather is the main reason behind the flu.
'We were experiencing intermittent rain, hot and cold weather most of the days in recent time,' he added.
The situation was not different at the Dhaka Shishu Hospital where a mother named Amina Begum said that she stood more than three hours with her 5.5-month-old baby girl after they had arrived from Badda.
'My girl has been suffering from fever and cold for the past four days. My daughter cannot even drink at the breast,' he added.
Dhaka Shishu Hospital director Professor Syed Shafi Ahmed said, 'The number of flu patients is much higher in our chambers than hospitals as many parents are being deterred from visiting hospitals in fear of Covid-19.'
'Many children were infected due to weather fluctuation as it is hot throughout the day and cold at night while there is also intermitted rain. The virus spread due to humidity. It can also spread among the adult population,' he added.
'In the past few days, we mostly received patients with general flu while we were also getting Covid and dengue patients,' he said.
The situation was no different at Dhaka Medical College Hospital.
A duty doctor of the medicine department said that they were receiving patients suffering from fever and cold while most of them were children.
'We were testing them for dengue or Covid after listening to their symptoms and examining their physical conditions,' she added.
Former Dhaka Medical College principal and noted medicine specialist Khan Abul Kalam Azad said to New Age on Friday, 'We are receiving adult patients with high fever which is a symptom of dengue and sneeze and cough like Covid-19 as well as diarrhoea. But they tested negative for Covid-19 and dengue. We can assume that they are getting infected by another virus, which is very unlike a common cold.'
He said that they did not see any complications in the adults as they recovered from the fever two or three days but the body pain, sneeze and cough remains for a few days.
He urged all patients suffering from viral fever and cold not to venture outside as they could easily infect other people.
'If children are infected with bronchiolitis, parents should not take them outside without masks as these patients need good care. Parents need to ensure their nutrition as well as adequate liquid intake while they should bathe these children in hot water,' he said, adding that parents should be alert to the danger of visitors coming to meet child patients at hospitals and they should not send their children to schools if they have a fever.
'Many children may be infected with a hospital-acquired infection that causes pneumonia as it is a bacterial infection. The hospital authority should keep their environment clean and parents need to clean their homes as well to reduce the possibility of infection,' he added.
Noted virologist Nazrul Islam on Friday told New Age that they suspect that it is a flu that people are contracting. 'We could not confirm it as we are yet to run any tests,' he added.
'We have been receiving patients with dengue and Covid-19-like symptoms but they tested negative for these diseases. I conducted urine, blood culture and other tests but did not find any bacterial infections. I will talk to the hospital authorities for conducting tests to determine whether it is a new virus or not,' he added.
News Courtesy:
https://www.newagebd.net/article/150054/hospital-outdoors-crowded-with-flu-pneumonia-patients