Covid-19 vaccination of school children starts in Dhaka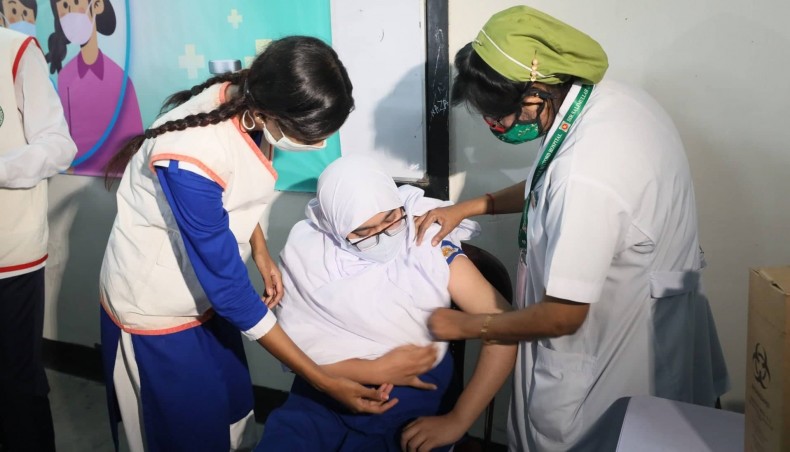 The campaign to vaccinate the school students of the 12-17 age group against Covid-19 began in Dhaka on Monday.
Health minister Zahid Maleque and education minister Dipu Moni inaugurated the vaccination campaign at Motijheel Ideal School and College while the drives in other centres in the city will start on Tuesday.
The vaccination campaign will be conducted at eight centres in the capital although it was scheduled to begin at 12 centres in the city. Other centres did not get approval due to lack of adequate facilities.
The seven other schools are: Hurdco International School, South Point School and College, Chittagong Grammar School, Dhaka, Ideal School and College, Mirpur Commerce College, Kakoli High School and College, South Bridge School and Scholastica School.
'Initially, we've started the vaccination programme at eight schools and some 5,000 students will be vaccinated in each centre daily. The students below 12 years won't be vaccinated now as steps have been taken to bring all the students of 12-17 age group, even the dropped ones, under the campaign,' said the health minister.
'We've got 96 lakh doses of Pfizer vaccine while 82 lakh doses are in hand. The World Health Organisation has said they'll provide more Pfizer and Moderna vaccines,' he said.
The Pfizer vaccine doses will be given at upazila level as well, he added.
Education minister Dipu Moni said the full-scale academic activities will resume soon after the successful vaccination of students.
However, the education ministry has said there are almost one crore students, aged between 12 to 17, across the country.
Earlier, health minister Zahid Maleque said the vaccination campaign for school students will begin at 12 centres in Dhaka while 21 centres outside Dhaka from November 1.
Some 40,000 students will be vaccinated every day under the campaign, said health minister Zahid Maleque while talking to reporters after the cabinet meeting on Thursday.
'Prime minister Sheikh Hasina said to increase the vaccination centers and all steps have been taken to increase centres across the country alongside Dhaka,' he said.
So far, 29,237,863 people have been fully vaccinated in the country while 42,154, 848 received the first dose.
On January 27, prime minister Hasina launched the Covid-19 vaccination programme at Kurmitola General Hospital through a videoconference.
The government rolled out a countrywide mass Covid-19 vaccination drive on February 7 vaccinating people, aged 55 and above, in the first phase.
On July 29, the government lowered the minimum age limit for taking Covid-19 jabs to 25 from 30 years in a bid to give a boost to the lagging vaccination rates in the country.
Earlier on July 19, the government lowered the age limit from 35 to 30 for vaccine registration.
News Courtesy:
https://www.newagebd.net/article/153351/covid-19-vaccination-of-school-children-starts-in-dhaka